The Family Tree of Ronald Mallinder
The HOLLINGSWORTH Family
The Family of Ron Mallinder's Maternal Grandmother
Clara Hollingsworth (Ron's grandmother) was the daughter of Joseph Hollingsworth and Sarah Brittle. Clara was born in 1873 in Saltley Warwickshire and died in November 1953 in Sheffield.
Joseph Hollingsworth was born in Dale Abbey, Derbyshire in 1839. Sarah Brittle was born in Birmingham in 1838. Joseph was a carpenter who made railway wagons.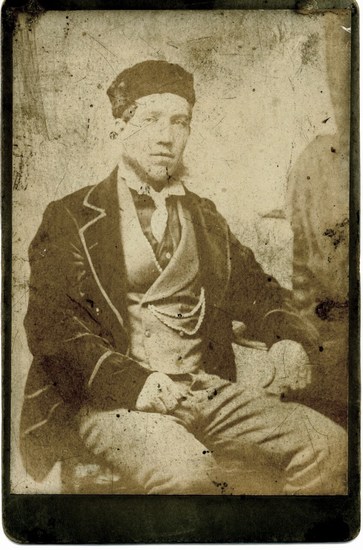 Joseph Hollingsworth (born1839)
Joseph and Sarah married 25th June 1860 at St Bartholemew's church, Birmingham. By 1861 they had one child William and were living in part of a house in Lawley Street, Aston. By 1871 they had moved to Gale Street and in 1881 they were living at 208 Adderley Road, Aston, Warwickshire. By 1891 they had moved to Kimberworth, Rotherham and lived at 36 Edward Street - by this time only daughter Alma was still living with her parents. Joseph was still working as a wagon maker.
Sarah's parents were Joseph Brittle born 1807 and Ann Brittle born 1809, of Aston, Birmingham.
Joseph and Sarah had seven children. They were:-
William 1860 (probably died young)
Mary, born 1862.
Joseph, born 1864.
Sarah, born 1865.
Alma, born 1870.
William, born 1871.
Clara, born 1873.
The family moved from Birmingham to Rotherham sometime before 1891. Joseph (born 1864 - Clara's eldest brother) kept the Black Bull public house in Rotherham, opposite Rotherham football ground. He lost all his money so moved with his wife (Emma Jones) to Manchester where he worked as a railway wagon maker. When he was young he had trained as a carpenter with his father. He had nine children and their descendants live in Blackpool, York and Perth, Australia.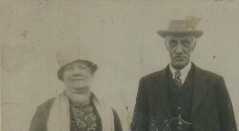 Joseph Hollingsworth born 1864 (eldest brother of Clara Utley
and his wife Emma Jones.
---
Joseph Hollingsworth (born 1839) was the son of Joseph Hollingsworth and Ann Wheatley. Joseph, a farm labourer, was born in Chaddesden Derbyshire in 1813. Ann was born in 1814 in Dale Abbey, Derbyshire.

Joseph and Ann married on 25th January 1835 in Duffield, Derbyshire.

In 1841 they were living at Green Lane, St Werburgh, Derby with sons Joseph, Michael and Herbert.

In 1851 they were living at Bag Lane, St Peter's, Derby with Joseph, Michael and daughter Emma. There is no mention of Herbert and one can only surmise that he became another statistic in the high infant mortality rates of the time.

They were still at Bag Lane in 1861 and by this time had another daughter Harriet, age 9. They also had a lodger Rachel Batley and her 13 month old son Frederick.

By 1871 the family had moved to Little Cottage, Canal bank and Joseph was working as a labourer at the station. Living in the house was Joseph, his wife Ann, their daughter Harriet Aston and her husband John. There was also a baby Arthur Burton who is just described as a "nurse child"!

In 1881 their address is given as Meadow Cottages, St Alkmund, Derby and Joseph is still working as a railway labourer. Ann is still alive and their daughter Emma and her husband Allan Marshall live with them. Allan is a builder's clerk.

In 1891 their address is shown as Canal Side Cottages and Joseph is working as a poultry dealer. He is 78 and his wife Ann is 79.

Ann was the daughter of Ruth Wheatley and she was christened on the 9th July 1814 at Dale Abbey.

Joseph and Ann had four children

.

They were:-

Joseph born 1839.
Michael born 1843.
Emma born 1850.
Harriet born 1852.
---
Joseph Hollingsworth (born 1813) was the son of Humphry Hollingsworth and Hannah Wilders. Humphrey and Hannah married on the 17th June 1805 at All Saints Church Derby.