The Family Tree of Ronald Mallinder
The KITSON Family
The Family of Ron Mallinder's Paternal Grandmother
Emily Kitson (wife of John Henry, mother of William Sidney) was the daughter of Thomas Kitson, a blacksmith. Thomas was born in 1832 in Hooton Roberts, Yorkshire. He was christened in Hooton Roberts on the 25th March 1832.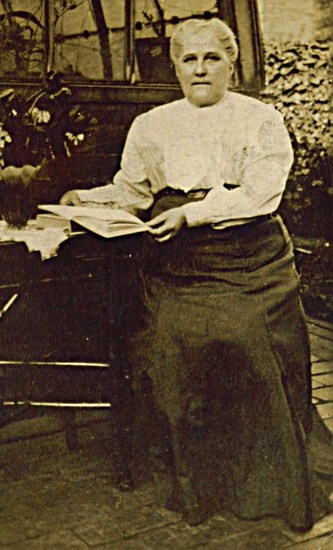 Emily Kitson
Thomas moved to Rotherham when he was apprenticed to Henry Adams, a blacksmith. He is shown in the 1851 census as an apprentice living with Henry Adams and his family. At this time the Adams were living in Vicarage Lane, Rotherham.
His wife was called Alice (sometimes Ann) and she was born in 1831 in Sheffield.
Thomas and Alice had four daughters.
They were:-
Sarah Ann, born 1855.
Harriet, born 1856.
Emily born, 1859.
Victoria Rosa, born 1867.
In 1881 they were living at 84 Cricket Inn Lane, Sheffield. Thomas is still working as a blacksmith. His daughter Sarah Ann is a burnisher, and Harriet is a warehouse girl. Emily is a scholar, and Victoria is still only 4 years old.
Thomas died age 53 in 1885.
---
Thomas Kitson was the son of William Kitson born 1806 in Hooton Roberts. Thomas's mother was Harriet Roberts also born in Hooton Roberts, in 1801.
They married in Rotherham on 2nd December 1824. William was an agricultural labourer.
In 1841 they were living in Wapping Street, Hooton Roberts, Yorkshire.
Thomas and Harriet had four children. They were:-
Thomas, born 1832.
Charles, born 1834.
George, born 1838.
Harriet, born 1840.