The Family Tree of Ronald Mallinder
The UTLEY Family
The Family of Ron Mallinder's Maternal Grandfather
Edith Blanche Utley (Ron's mother) was the daughter of Thomas Henry Utley and Clara Hollingsworth. Thomas was born in Pendleton, Lancashire in 1870 and Clara was born in Saltley, Warwickshire in 1873.
Thomas was an iron roller and eventually become manger of the local Rolling Mills and a much respected member of the community.
Thomas and Clara were married in Rotherham during the summer of 1893.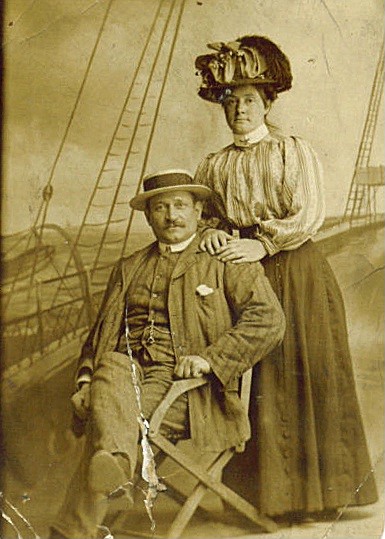 Thomas and Clara Utley C1900, on the Isle of Man
In 1871 Thomas, his parents and his brothers and sisters were living at 36 Threntham, Pendleton but by 1881 they were living at 1, Windsor Street, Pendleton In Salford, Lancashire.
In 1901 Thomas, Clara and 5 year old Edith were living at 8, Ashern Street, Attercliffe.
Edith Blanche was their only child. There were other children but they were all born premature and didn't survive. Edie was born prematurely in December 1905. She was wrapped in cotton wool and kept in a box near the fire (no incubators in those days!). She was fed by dipping a clean rag in milk and allowing her to suck it - she was too weak to take a bottle. She survived but always suffered very bad bronchitis every winter. Her parents doted on her as their only child and she always lived with them even after she married.
The photograph on the next page was taken when Edie was about two years old. She looks scared and she was! Her parents had told her they were taking her to have her photo taken so they could stand it on the mantelpiece. She didn't know what a photo was and thought that she was going to have to stand on the mantelpiece. She kept crying she didn't want to be on the mantelpiece but her mum didn't really know what she was talking about. When the photo was being taken she is still worried about having to stand forever above the fire!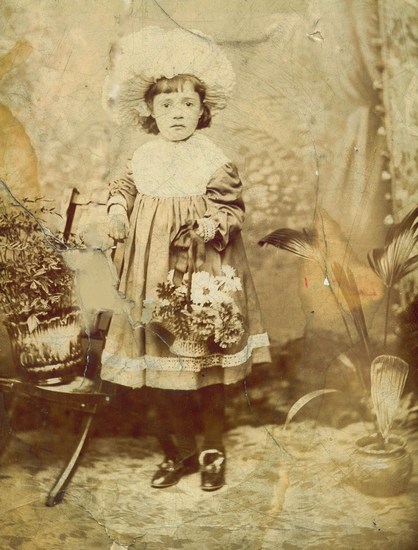 The "mantelpiece" photograph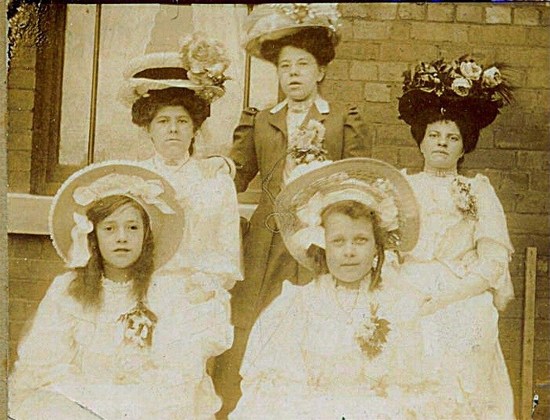 Edith when she was a bridesmaid (front left)
Clara helped to bring up her two grandsons Thomas Sidney and Ronald. She then often looked after her great granddaughters Lynne (Sid's daughter born November 1943) and Jacqueline (Ron's daughter born August 1944). She was known as "Mar" because she bought them Mars Bars every Saturday. She made sugar and butter sandwiches because "they are good for your chesty colds" and also condensed milk sandwiches. On cold wet days she used to tip the bags of flour onto the table and give the great granddaughters egg cups and cups to make flour pies and castles - the flour was brushed back into the bag to be used for baking when playing had finished. She always enjoyed a milk stout to drink whenever anyone brought her one. There are many tales about how she used to shake out Tom's trousers when he came home from the pub after paying the workers. She kept the sovereigns on the picture rail and he never noticed them - or at least never mentioned them!
In the late '40s during a family outing to Blackpool she became a little bit cross. Everyone had got into a boat for a go on the boating lake. Possibly too many people were in it, or someone trod too heavily on one side, anyway the astrakhan cuffs on Clara's coat got soaked - she was a bit annoyed!!! These are things I remember, and her famous saying - proof of respectability "I have been married for nearly 50 years but he has never seen my feet"!!
After he retired from the Rolling Mills, Thomas became a watchman for a small cement works across the road from where they lived. He used to walk round shaking his stick at the local children who always tried to play in the huge piles of sand. They were all terrified of "Mester Utley"!
He was a big, incredibly strong man who could lift a sack of coal in each hand - no one argued with him. But to his great granddaughters he was "Father Tom" - but we still treated him with respect!!!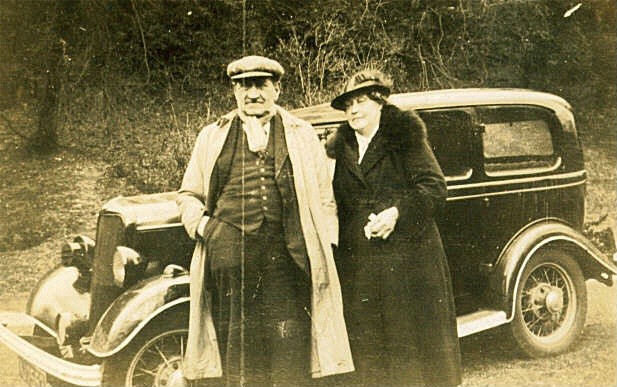 Thomas and Clara Utley c1950
| | |
| --- | --- |
| Clara Utley c 1930 | Edith Blanche c 1930 |
---
Thomas Henry was the son of Arthur Utley and Ann Shephard. Arthur was born in 1847 in Rotherham and Ann was born in 1849 in Nottinghamshire.
They married in Barton, Nottinghamshire in 1869.
We don't know why or when they moved to the Manchester area but it was probably in search of work.
Arthur was an iron roller, a profession that his eldest son Thomas followed.
Arthur and Ann had five children. They were:-
Thomas Henry, born 1870.
John, born 1872.
Arthur, born 1875.
Florence, born 1877.
Ann, born 1880.
---
Arthur Utley was the son of John Utley and his wife Esther. John was born about 1813 in Greasbrough Yorkshire and Esther was born in about 1815 in Hoyland, Yorkshire.
John was a coal miner.
By 1841 John and Esther are married and living in Park Gate, Rotherham and have three children George, Olive and Sarah. By 1851 they had added Henry, Elizabeth, Elenor and Arthur to their family.
In 1861 they still lived in Park Gate, Rotherham and have two more daughters, Florence and Gertrude.
By 1871 they had moved to 9 Greasborough Road, Greasborough, Rotherham and had another daughter, Augustine.
In 1881 the family were still in Greasborough Road but John is working as a grocer (age 67) and they have a servant Jessie Saunders from Devon living in the house. Their granddaughter Lottie Nelson, age 13, is also living with them.
John and Esther had ten children. They were:-
George, born 1836
Sarah, born 1838
Olive, born 1840
Henry, born 1844
Elenor, born 1842
Arthur, born 1847
Eliza, born 1850
Gertrude, born 1853
Florence, born 1857
Augustine, 1861
John Utley died in 1886.
---
John was the son of David Utley, Christened in Greasbrough, Rotherham on 24th July 1774, and Elizabeth Charlesworth. David and Elizabeth were married on 16th December 1794 in Rotherham.
David was the son of David Utley, born c1742, and Dorothy (?), born c1744. They married in Rotherham c1758. They had seven children, and they were Christened on the following dates:-
Joseph, 28 January 1759
Sarah, 21 February 1762
Jane, 17 November 1774
William, 25 January 1767
Thomas, 2 July 1767
Ann, 15 September 1772
David, 24 July 1774