The Family Tree of Ronald Mallinder
Ronald Mallinder is the son of William Sidney Mallinder and Edith Blanche Utley. Both Sid and Edie were born in December 1895. They always knew each other and went to school together. When they were eleven they announced that they were going to marry each other and he gave her a tin ring. They actually married towards the end of 1916 in Rotherham.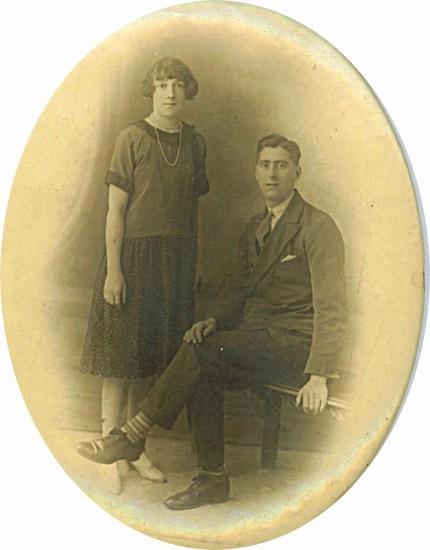 William Sidney and Edith Blanche just after they were married.
Sidney and Edith had two sons. They were:
Thomas Sidney, born 1917
Ronald born, 1922
Sid junior was born while his dad was away fighting in World War 1. Sid senior fought in France and then against the Turks. He was evacuated to Salonica and became part of "The Forgotten Army". The soldiers amused themselves in Salonica by melting down captured Turkish guns and making them into candlesticks, ash trays etc. They were nearly all steel workers so knew how to melt and remold metals! Sid made some of these and posted them home in the hope that his family would know he was thinking of them - they are inscribed "To the ones I love". They did arrive home and just as the postman was handing them over to Edith the parcel broke up and everything spilled out. Nothing was really damaged but if it had happened just a few hours earlier the candlesticks etc may never have reached their destination. The candlesticks and ashtray are still in the family. The inscription "To the ones I love" has been almost polished away but the base of the candlesticks is still clearly engraved "Salonica 1917".
The soldiers were eventually taken to Italy and made their own way to France. Sid says they just lived on what they could find - but the melons were delicious! From France they were brought back to England.
When Sid got home Sid junior screamed his head off because there was a man in his mother's bed. He hadnít seen his dad and just thought his dad was a picture they kept on the side board.
During the 20s and early 30s Sid used to take his younger son Ron out on Sunday mornings. They often went to the allotments to chat with friends and on the way back Sid would always stop at the war memorial and tell Ron that the names on it were his school friends. It is ironical that a generation later Ron was doing exactly the same thing with his daughter.
| | |
| --- | --- |
| Sid and Edie in the 1920s | Ron c1932 |
| Ron and his Mother in the 1930s | Ron and his Father in the 1930s |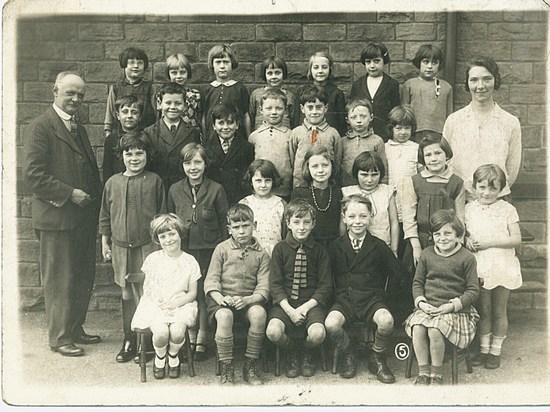 Ron at school c 1930 (second row from back, fifth from the left)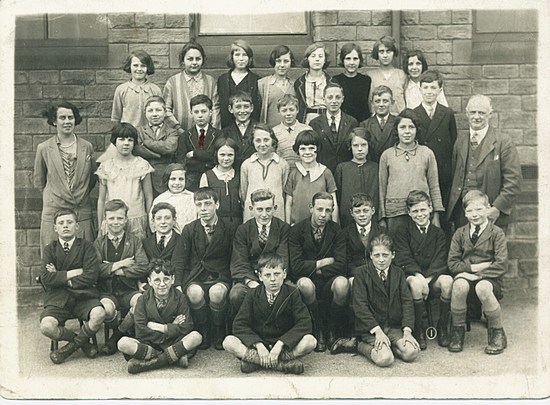 Sid at school c1930 (second row from the back second from left)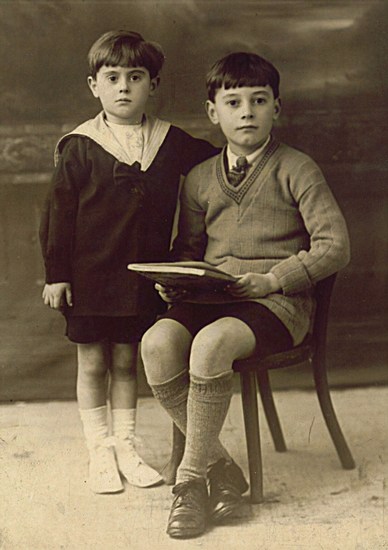 Sid and Ron c1927
Sid and Edie were good fun. They enjoyed nights out, were members of Tinsley Working Men's' Club and at weekends went there or to the Plumpers (the local pub). Every year they used to go to Blackpool for a week to see the illuminations. They also liked the horse racing. When betting was illegal they (and Clara) used to put a shilling each way on horses - the bookie lived down the road and the kids - first sons then granddaughters - used to be sent out with the money wrapped up in a piece of newspaper to place the bet. They also used to go regularly to the Doncaster Races and come back with lots of packets of Doncaster butterscotch - not to mention Pontefract Cakes from Pontefract!
Edie loved films and was happy to talk about stars and films for hours. Saturday was her shopping day and sometimes she went to Attercliffe Common to shop which involved a trip to "Banners" with the magical moving staircases. She was also happy and patient enough to seriously discuss the adventures and tribulations of the "Silent Three" and other characters in "School Friend", the comic she bought her granddaughters every week.
| | |
| --- | --- |
| Sid and Edie at Blackpool in the 1950s | Sid and Edie in the 1960s |