PRESERVED & SPECIAL INTEREST
RAILWAY PHOTOGRAPHS
EAST SOMERSET RAILWAY 2001
The East Somerset Railway opened as a broad-gauge line from Witham on the Westbury to Weymouth line to Shepton Mallet in 1858, extending to Wells in 1862. It was absorbed by the Great Western Railway in 1874, and passed to British Rail in 1948. Passenger services were withdrawn in 1963, although bitumen freight trains continued to Cranmore until 1985.
In 1967, the artist David Shepherd bought two steam engines, and needed somewhere to base them. He discovered Cranmore in 1971, and with some friends bought the site, and established the Cranmore Railway Company.
After considerable work clearing and restoring the site, the East Somerset Railway opened in 1973. The line currently runs from Cranmore Station westwards towards Shepton Mallet, to a newly-built station at Mendip Vale, a distance of about two miles.
More details can be found at the ESR website.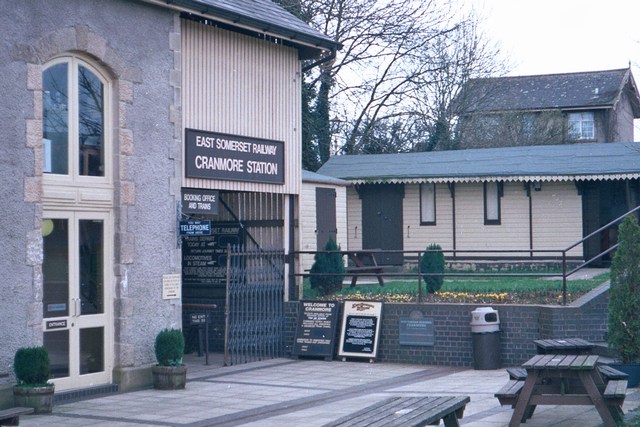 The main station building is a new construction - the original was too small
for the visiting public, but remains further along the platform.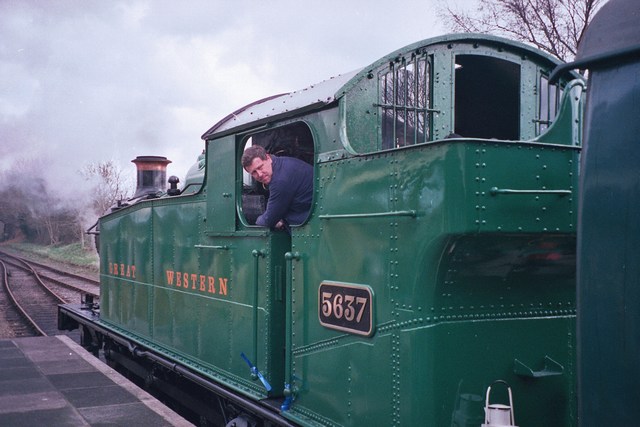 Locomotive 5637 was in use on the day of the visit.
She was built in 1925 in the Great Western Railways workshops at Swindon.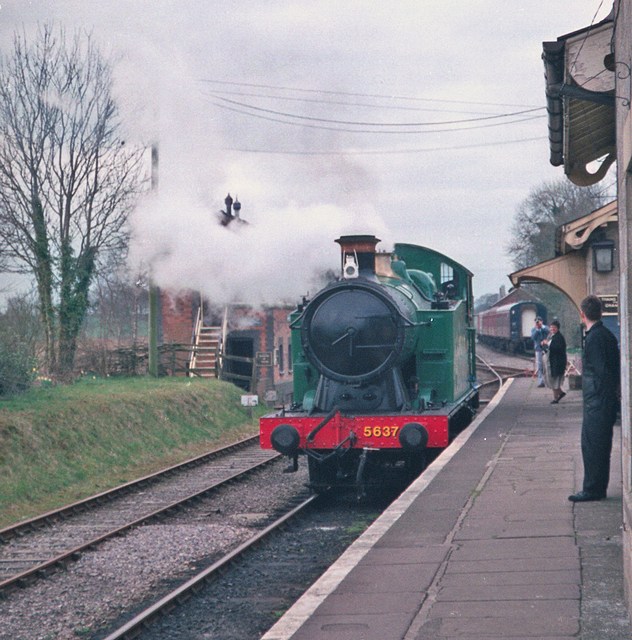 Soon after construction, the loco went to Barry and was used on local services in the Newport and Cardiff areas.
She spent all her life in South Wales, and continued in service until June 1964.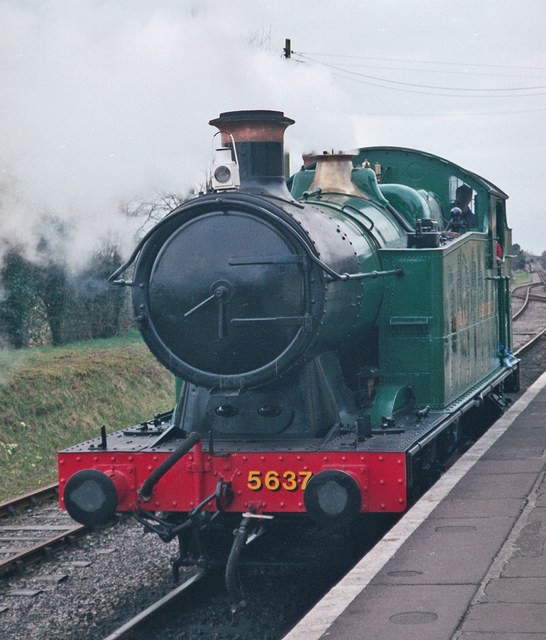 5637 was scrapped by BR, but was sold to the Birmingham Railway Museum at Tyseley.
She was not restored, and subsequently was purchased by a group of volunteers at the Swindon & Cricklade Railway.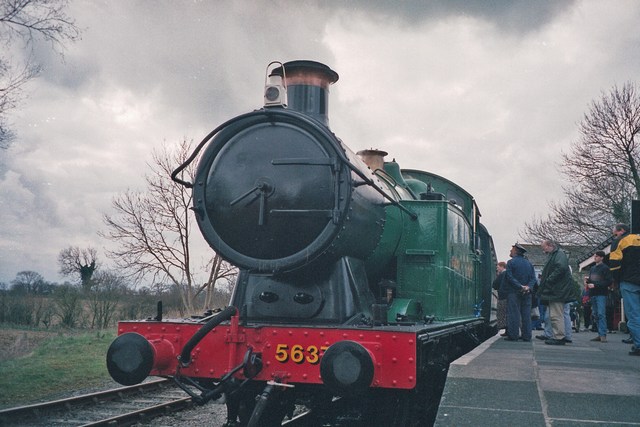 In 1998, after almost 18 years of restoration, No. 5637 was steamed for the first time since 1964.
All the restoration work was carried by the 5637 Steam Locomotive Group.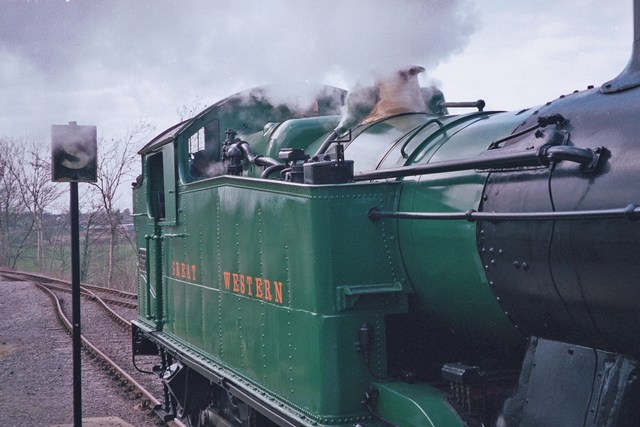 The locomotive was transferred by road to the East Somerset Railway for running in, and has stayed there ever since.
The loco was repainted into Great Western (green) livery in February 1999 and then into BR Black in 2002.
Information from the ESR 5637 web page.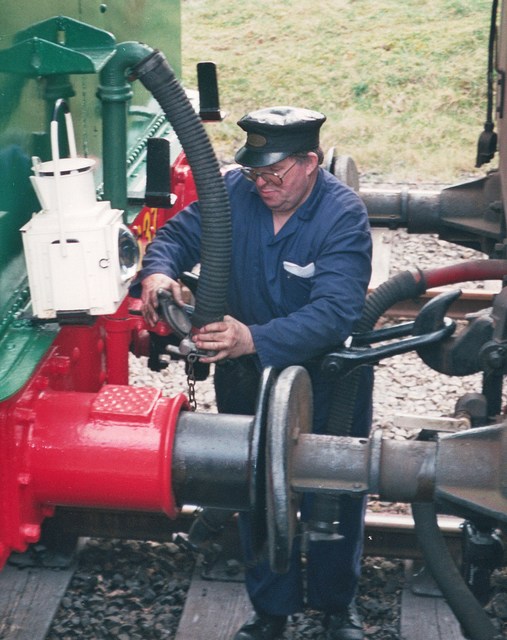 Connecting the vacuum pipe for the brakes on the carriages.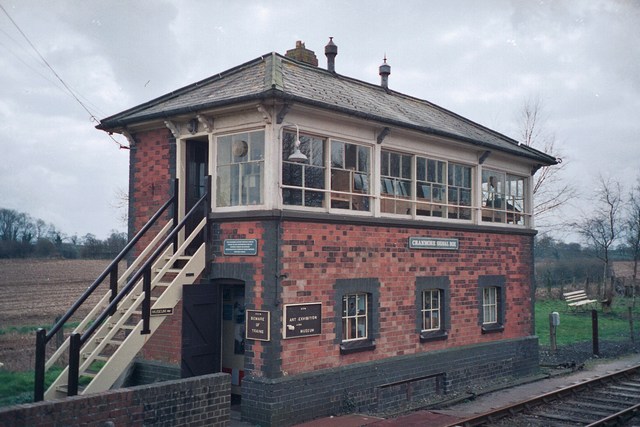 The signal box at Cranmore Station.
It was built in 1904 and closed in 1968. Restoration began in 2000.
See also the ESR Signal Box Web Page.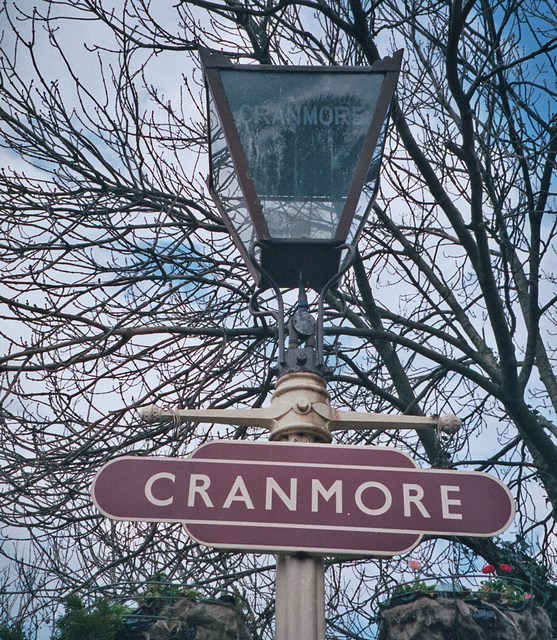 Station name and lamp.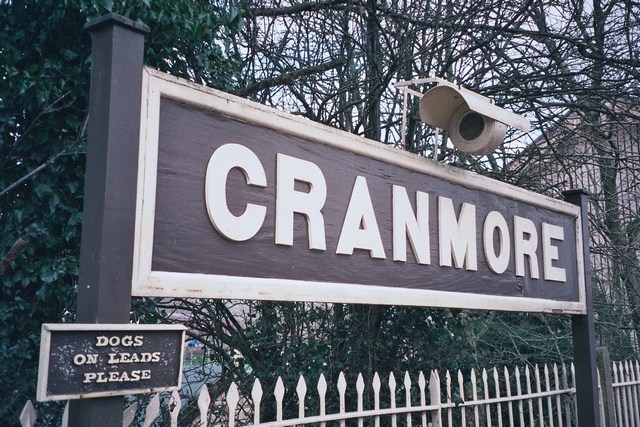 Restored station name and dog notice.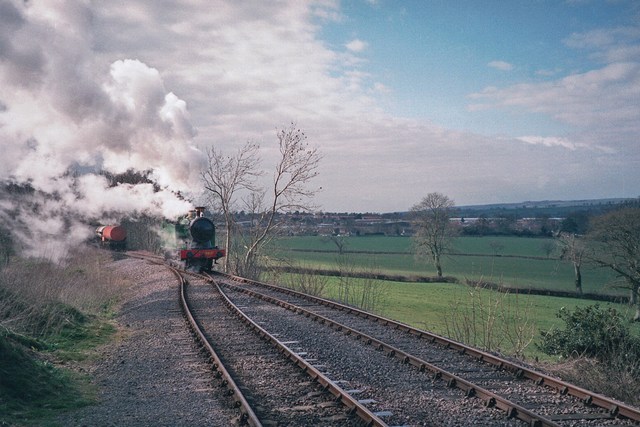 Loco 5637 approaching the Cranmore run round loop on a crisp spring morning.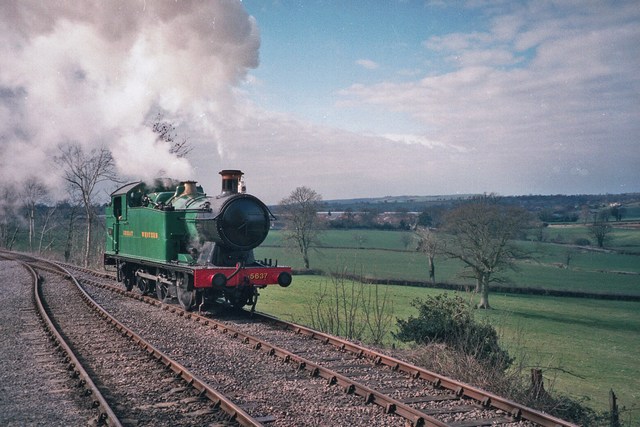 5637 on the loop line.
© Copyright M J Smith, 2001-2009
No photographs to be reproduced elsewhere without permission.