PRESERVED & SPECIAL INTEREST
RAILWAY PHOTOGRAPHS
This line was built by the Lewes and East Grinstead Railway, and opened in 1882, with the operation of trains by the London, Brighton and South Coast Railway Company. It was closed by British Rail in 1958, after only 76 years.
The Bluebell Railway was formed shortly after closure, and the first Bluebell stream train ran in 1960, some seven years before steam locomotives disappeared from British Rail main lines!
The Bluebell Railway has gone from strength to strength during the following decades, and is now regarded as one of the foremost preserved railways in the Country. It currently runs for nine miles from Sheffield Park via Horsted Keynes to Kingscote, but plans are well advanced for an extension to East Grinstead.
These photographs were taken on 22nd August 2011.
SHEFFIELD PARK STATION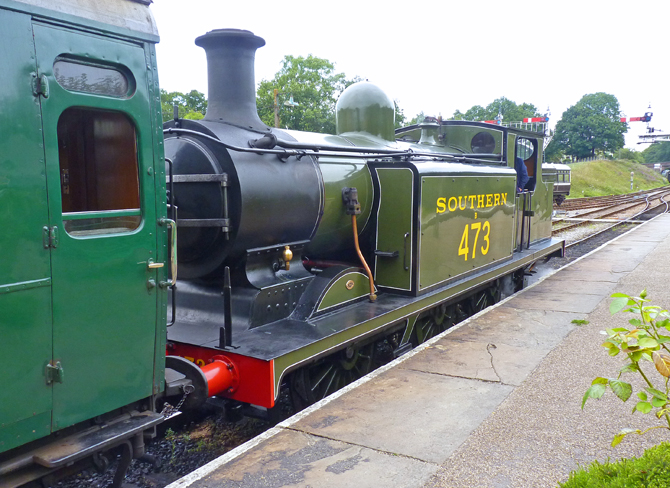 0-6-2T Locomotive 473 "Birch Grove" at Sheffield Park.
When photographed in 1999, the loco was painted brown - see here.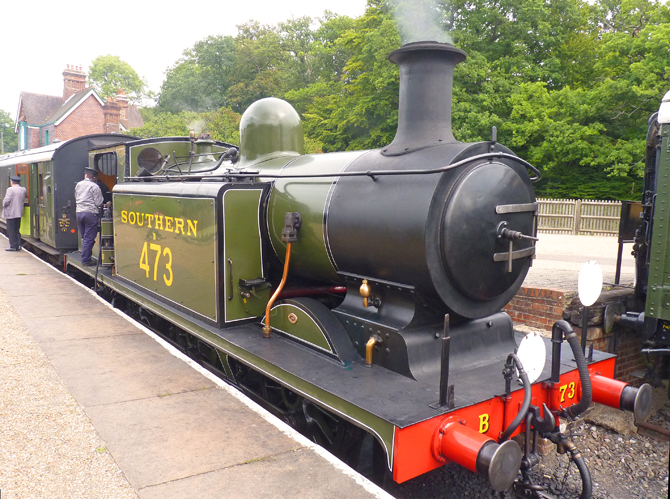 473 was built at Brighton in 1898 by the London, Brighton & South Coast Railway.
She was preserved in 1962, and restored by the Bluebell Railway.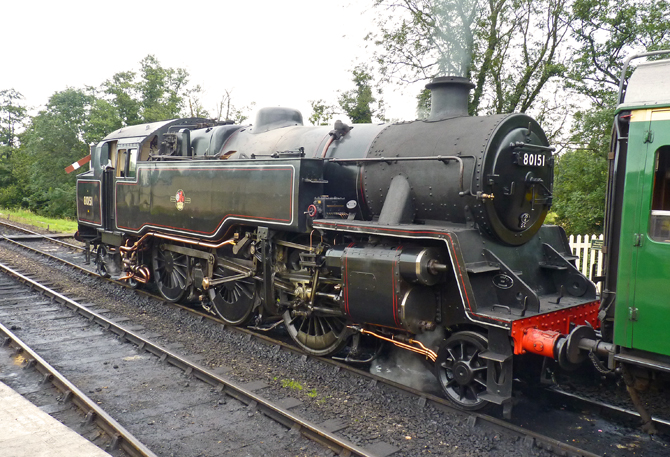 BR Standard Tank No. 80151. This 2-6-4T was built in 1957 at Brighton.
A one-time resident of Barry scrap yard, 80151 arrived from another preservation site in 1998,
and returned to steam after the completion of its overhaul in the Bluebell's workshops in October 2001.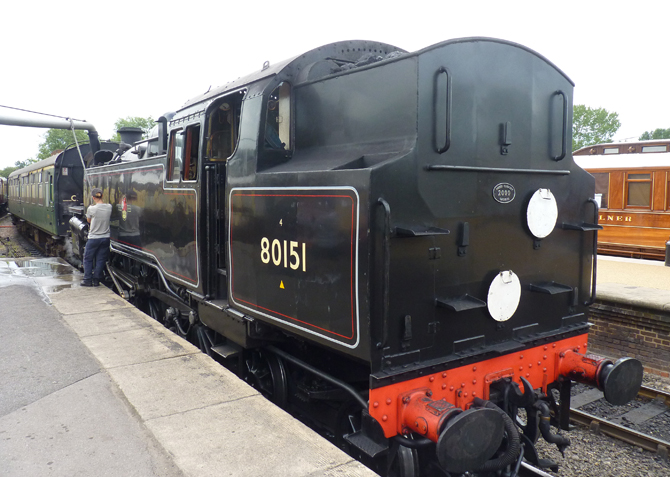 80151 takes in water at Sheffield Park prior to her day's duties on the line.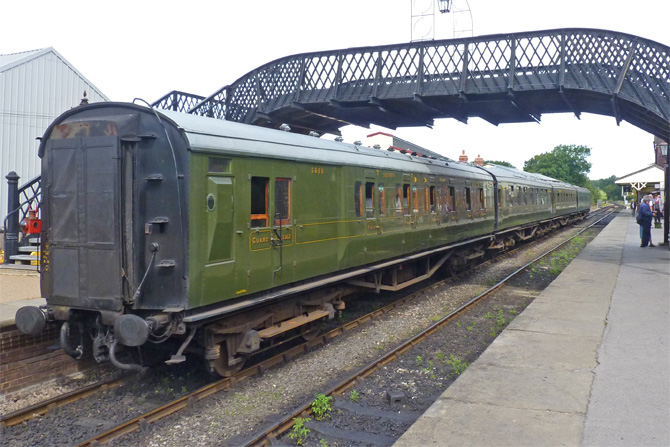 Southern Railway - Maunsell Carriage No.6686
Corridor Brake Composite (built in 1935 at Eastleigh).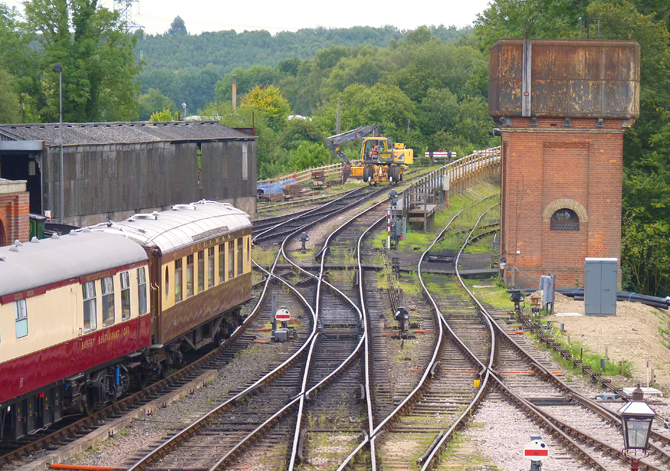 A view of the sidings at Sheffield Park, taken from the footbridge.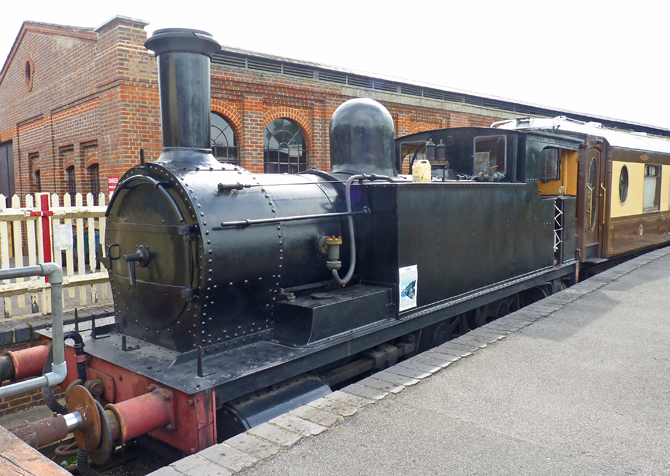 2650 was built in 1880 by the North London Railway at Bow works, east London, and is the only survivor built by that company.
Withdrawn by British Railways in 1962, she was restored by apprentices at Derby works before arriving at the Bluebell Railway.
The loco is now in need of a major overhaul, including a new firebox.
SHEFFIELD PARK ENGINE SHEDS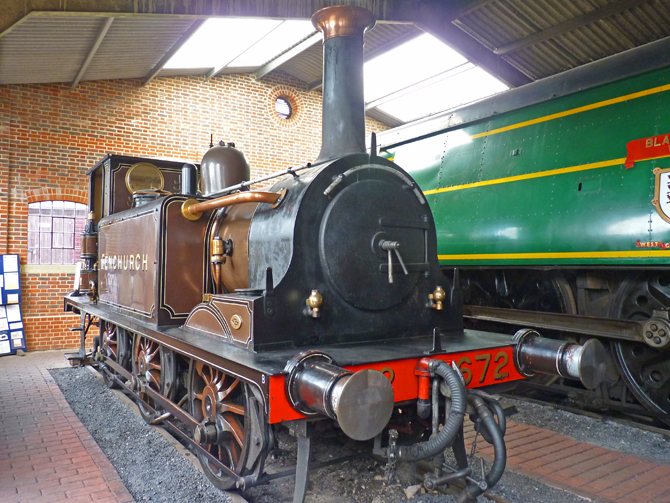 672 "Fenchurch" was built in 1872 by the London, Brighton & South Coast Railway, at the Brighton works.
The 0-6-0T loco was sold to the Newhaven Harbour Company, being light enough to cross a bridge within the docks.
It came back into Southern Railway ownership, and continued for many years to work at Newhaven. It came to the
Bluebell in 1964, having been for a number of years a celebrity as the oldest locomotive working on British Railways.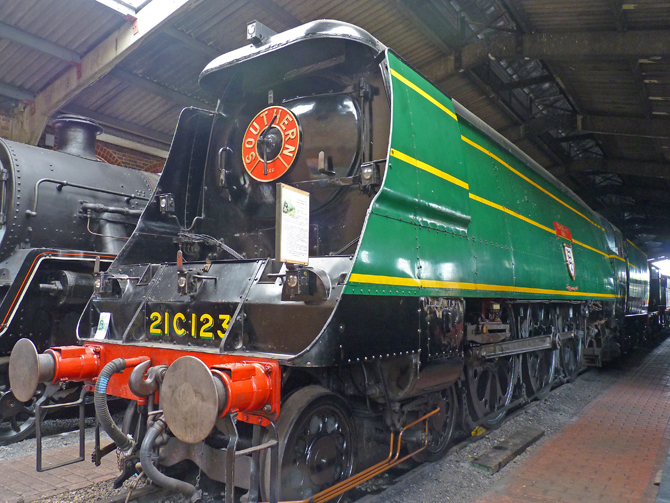 Southern Railway's Bulleid Light Pacific, "Blackmoor Vale" was built in 1946 at Brighton works.
The 4-6-2 loco was withdrawn by BR in 1967, and went straight to preservation at Longmoor Military Railway.
It is owned by the Bulleid Society and having ceased operating in 2008 is awaiting major overhaul and boiler work.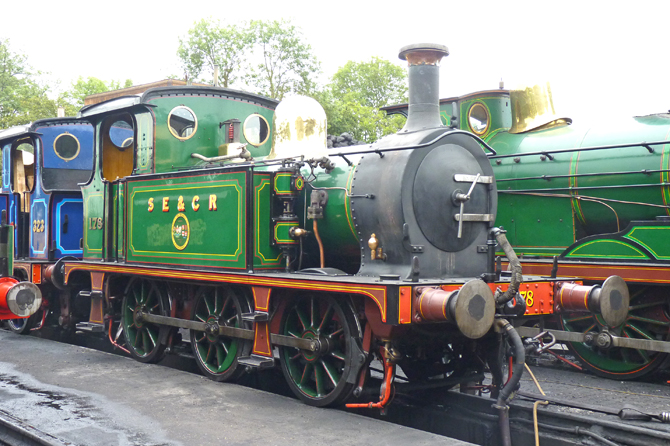 SECR Wainwright P-class, No.178 was built in 1910 at Ashford, Kent.
The 0-6-0T loco came to the Bluebell in 1969 after industrial service at Bowaters Paper Mill.
Restored at Sheffield Park, it carries the fully-lined livery of the South East & Chatham Railway.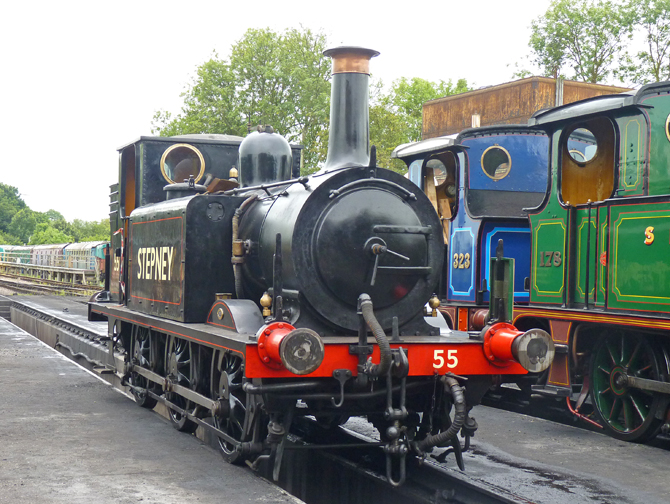 LBSCR Stroudley Terrier, No.55 "Stepney" was built in 1875 at Brighton.
The Terriers were ideally suited to working on lightly laid Branch lines, and "Stepney" was particularly
associated with the Hayling Island branch, until sold to the Bluebell Railway in May 1960 as their first locomotive.
HORSTED KEYNES STATION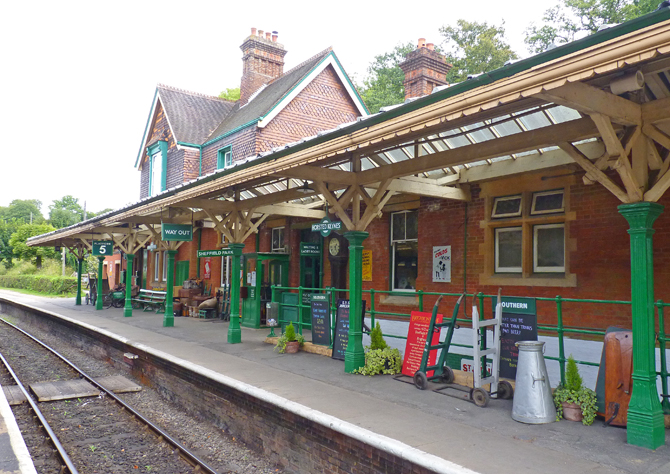 View of Horsted Keynes platform 5. The station, with five platforms, is kept in immaculate condition.
Maintained as a 1930s-style station, this bookstall adds to the period feeling.

Stained glass windows in the booking hall of Horsted Keynes station.
The South Signal Box was built by the LBSCR along with the stations on the line in 1882. When the line finally closed the whole of the interior of the box was ripped out leaving just the basic superstructure and the frame. Now, fully functional, each instrument in use has been carefully sourced to fit in with the box and create an "authentic" feel.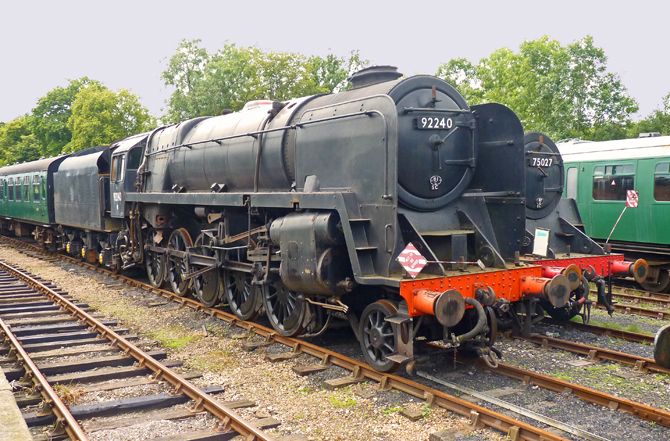 92240 2-10-0 was built at Crewe in 1958 by British Railways. The last major overhaul was in 1990, and the loco was last operational in November 2002. It was withdrawn from service before the end of its boiler certificate due to the deteriorating condition of its tubes, with work also likely to be required on the firebox and front tube plate. Currently it is on static display at Horsted Keynes awaiting overhaul.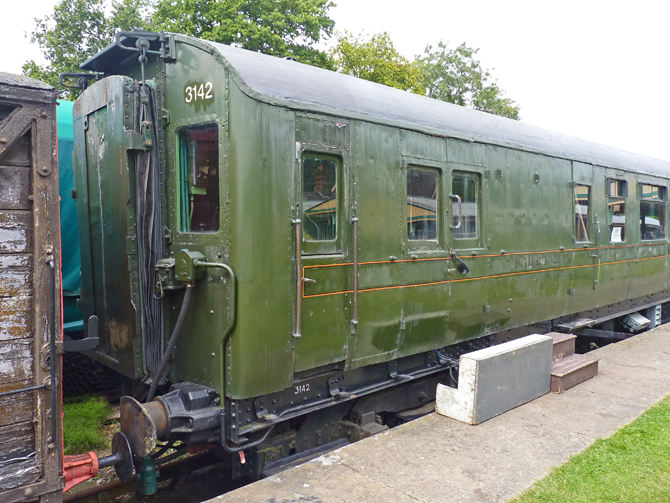 Southern Electric 4-Cor motor coach No.11201, built 1938 for the London to Portsmouth line. This '4-Cor' motor coach is on display at Platform 1 at Horsted Keynes. The carriage is part of a complete 4-coach set owned by a company set up by the Southern Electric Group, having been bought by them straight out of service on British Rail in 1972. Initially it operated behind steam on the Nene Valley Railway, forming their re-opening train in 1977. It was later moved back to Southern Electric territory, and this coach was cosmetically restored externally at St. Leonards, before moving to the Bluebell Railway to be on public display.
The only other 4-Cor motor car on public display is at the National Railway Museum at York - see my photo here.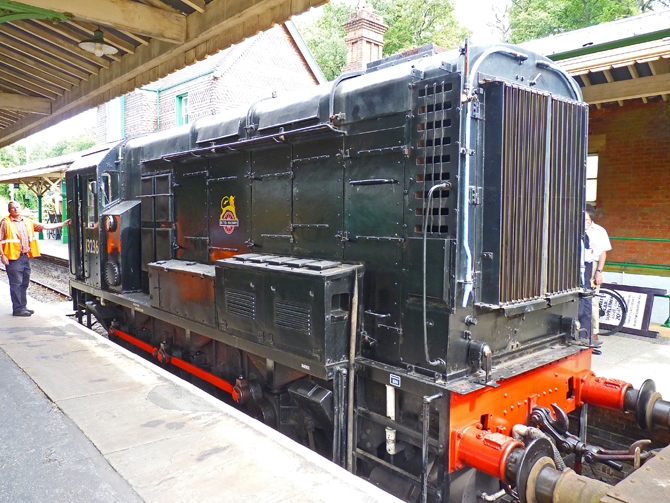 Class 08 diesel locomotive shunter 13236, built 1957. This is on hire to assist with shunting, and is used in
connection with the spoil removal from Imberhorne Cutting, which is necessary for the East Grinstead extension.
KINGSCOTE STATION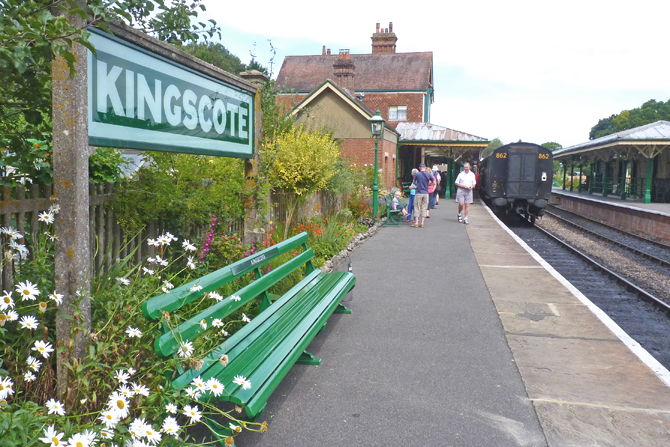 This is the current terminus of the line. Work on the northward extension to East Grinstead is well under way.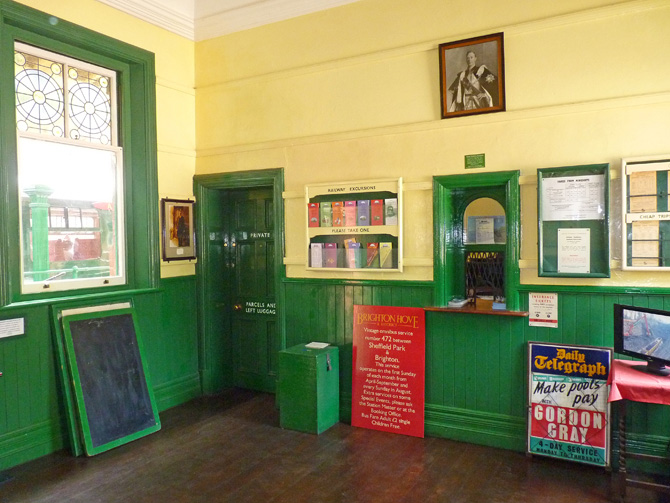 The booking hall at Kingscote station. Note the portrait of King George VI.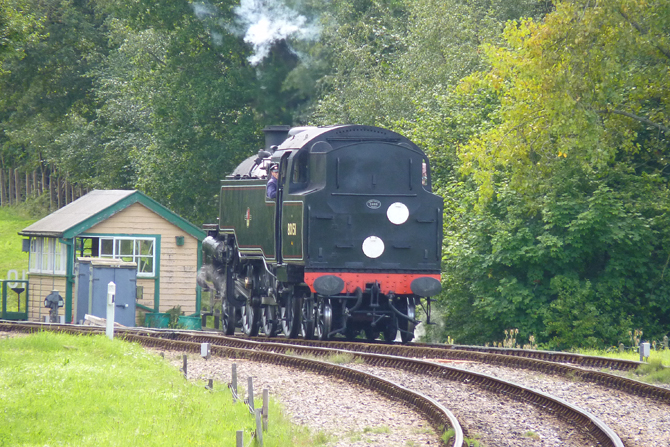 Tank locomotive 80151 is returning from the run-round at Kingscote to head up the next service to Sheffield Park.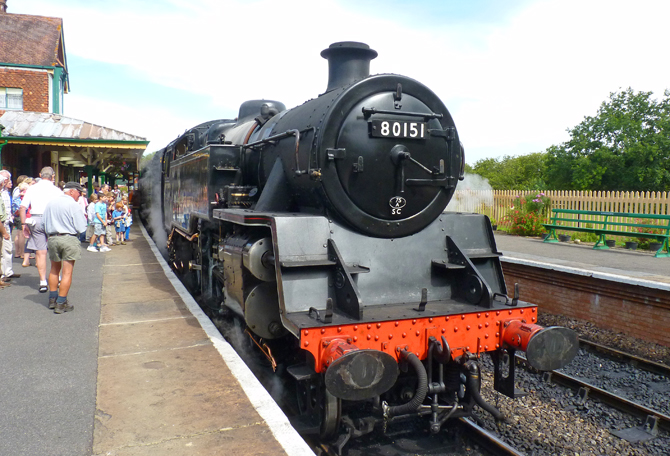 Tank locomotive 80151 at Kingscote, attached to the carriages, and ready to haul the next service to Sheffield Park.
© Copyright M J Smith, 2011
No photographs to be reproduced elsewhere without permission.