TRAMS: SAN FRANCISCO, CALIFORNIA, USA (2001)
Amongst the plethora of public transport systems in San Francisco, there are the trams, or as they are known locally, street cars. The historic electric trams of the F-line and the E-line serve the City's main artery, Market Street, and its grand waterfront boulevard, The Embarcadero. The routes link San Francisco's most popular visitor attraction, Fisherman's Wharf, with its commercial, financial, and retail centers, plus several residential neighbourhoods as well.
The F-Market & Wharves line is both the world's longest publicly-operated vintage street car line in daily service (six miles one-way), and (along with New Orleans' famed St. Charles line) the most popular (over 20,000 daily riders). No heritage transit line operates such a diversity of equipment. More than 30 authentic street cars, trams, and trolleys from around the world are available for service. They were built as long ago as the 1890s and as recently as the 1950s, with more being restored all the time (thanks in part to the volunteers of Market Street Railway and the financial help of their members and supporters).
The trams are all in different liveries, representing the tram liveries of many different US cities, and even the liveries of European cities.
These photographs were taken in August 2001.
Tram 1811 originated in Milan, Italy. Seen here in 2001, the tram was wearing the solid orange livery used
in Milan for the last quarter of the 20th century. In 2004, however, car No. 1811 was repainted into the
original 1928 Milan livery of yellow and white with black trim. In 2007 No. 1818 received the two-tone
green livery that the Milan trams wore from the 1930s to the 1970s.

Tram 1811 at the Fisherman's Wharf Terminus.
The former Milan tram 1811 at the Fisherman's Wharf Terminus.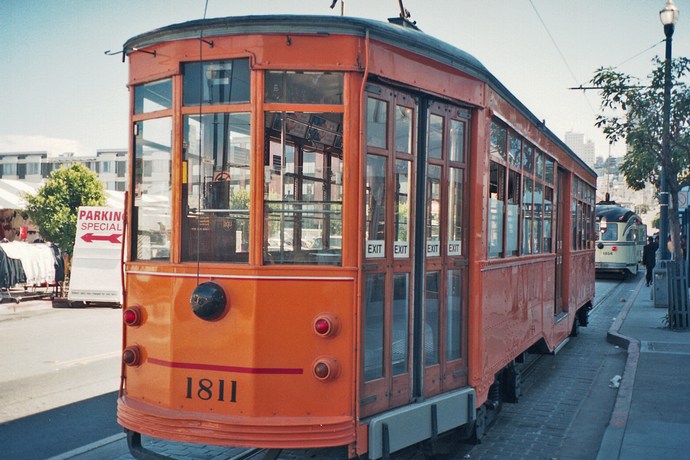 Rear view, with red lights, of tram 1811 at the Fisherman's Wharf Terminus.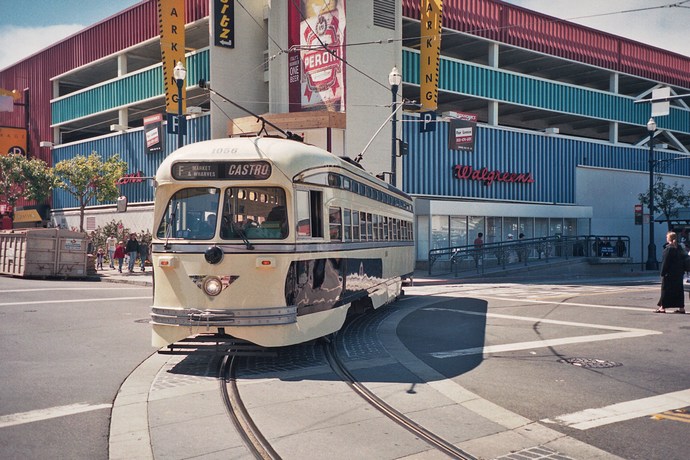 Tram 1056 was built 1948, and is painted in Kansas City tram livery.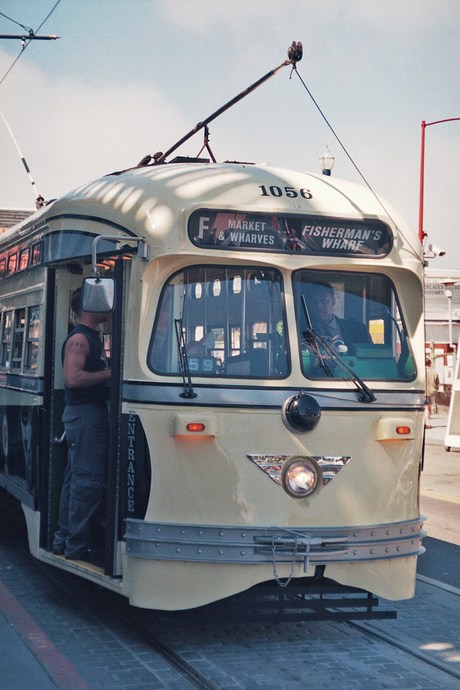 Close up of the front of tram 1056.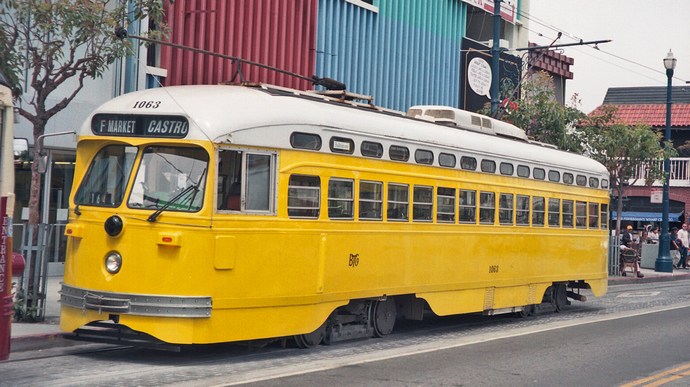 Tram 1063 was built 1948 and is in the colours of Baltimore, Maryland, trams.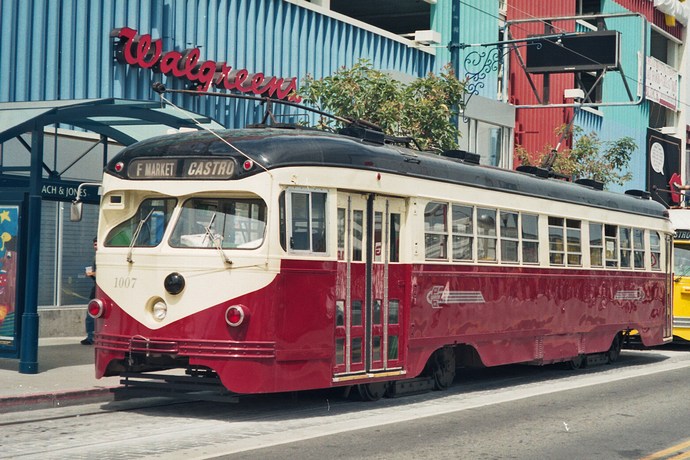 Tram 1007, at the Fisherman's Wharf terminus was built in 1948 by the St Louis Car Company.
This is a San Francisco original, and sports the local livery.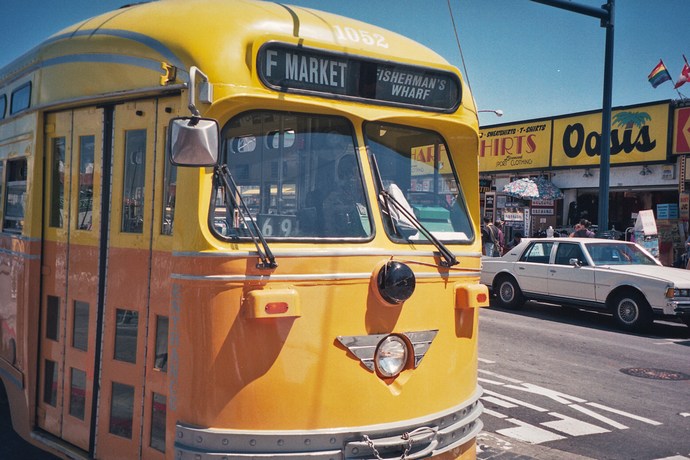 Tram 1052 was built in 1948 and worked in Philadelphia.
In later years it transferred to the Los Angeles Railway Company, who's colours of yellow and orange it wears.
.
© Copyright M J Smith, 2001-2009
No photographs to be reproduced elsewhere without permission.