NORFOLK LIGHT RAIL
VIRGINIA, USA (2011)
The Norfolk Light Rail System had still not opened to the public when I visited in July 2011, but officially opened in August 2011. However, the infrastructure was all complete and test trains were making journeys along the length of the system in July 2011. The route runs from the Eastern Virginia Medical Center, through the streets of downtown Norfolk, then along the old Norfolk Southern track bed to Newtown Road on the Norfolk/Virginia Beach city borders. There are eleven stations in total along the route.
This series of photographs concentrates on the western end of the route, much of which I had not photographed previously. Additionally, there are some photos of the Newtown Road terminus at the eastern end.
These photographs were taken in July 2011.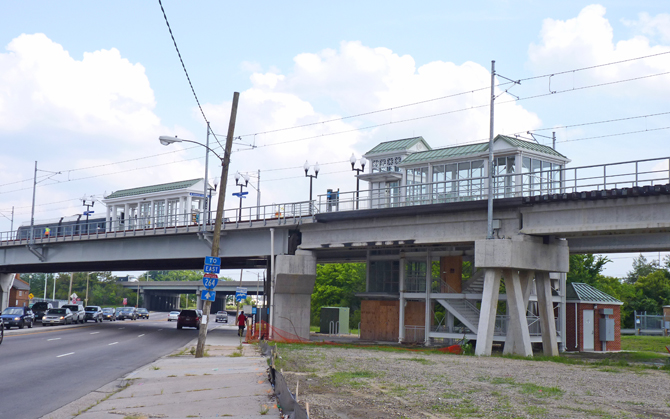 This is the Norfolk State University station at Brambleton Avenue.
This is the only station on the line which is elevated above street level.
Lifts (elevators) and a fixed staircase provide access to and from the station platforms.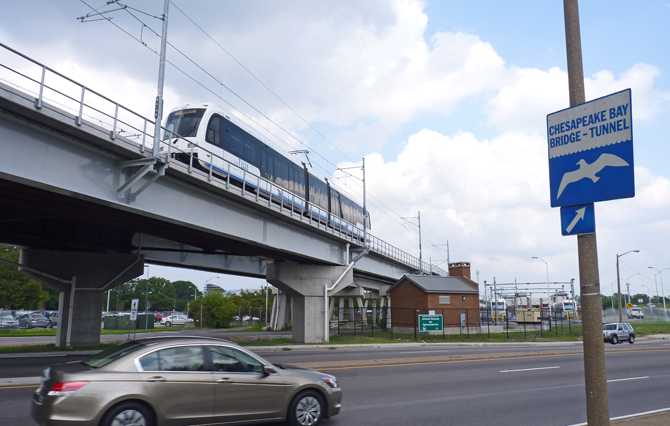 This shows the south side of the rail bridge, with one of the two-car units at the station.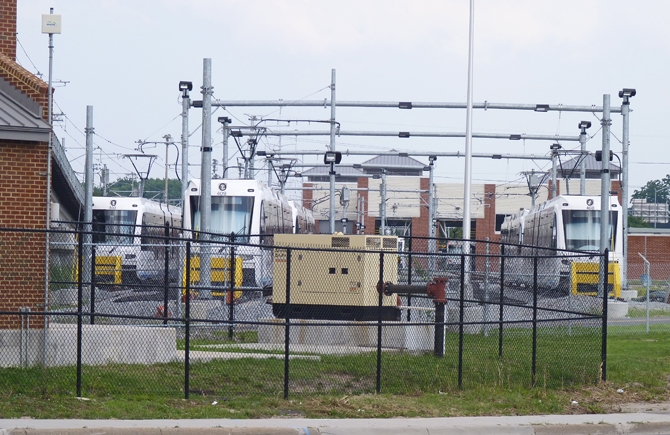 Adjacent to the NSU station is a depot for the rail cars that will provide the service.
This is a view of the elevated trackway, leaving NSU station and heading west to Harbor Park station.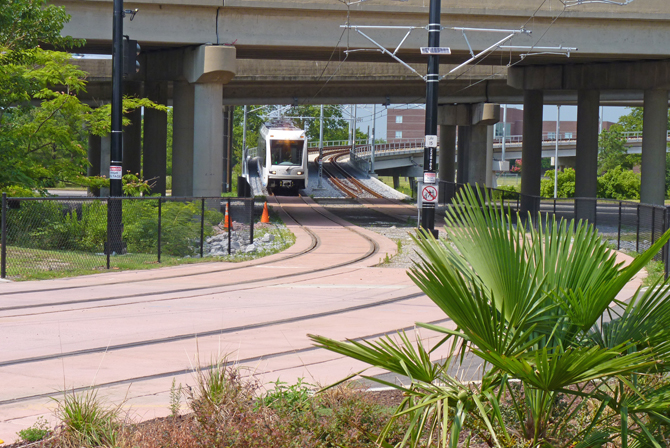 This shows the track descending from the elevated section down to street level at Harbor Park.
As can be seen, there were test trains operating on the full length of the line.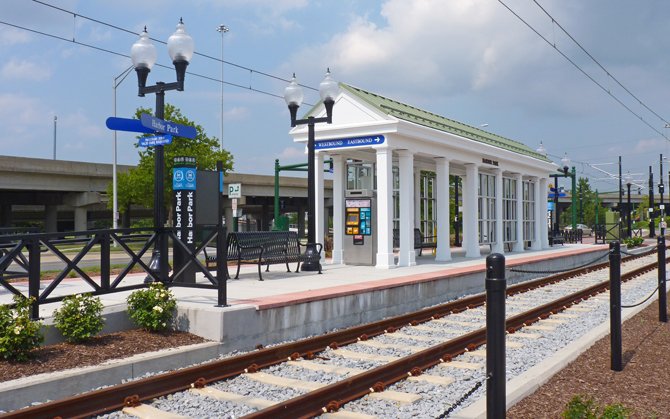 A very smart Harbor Park station.
This is next to the baseball stadium, and is expected to be very busy when games are on.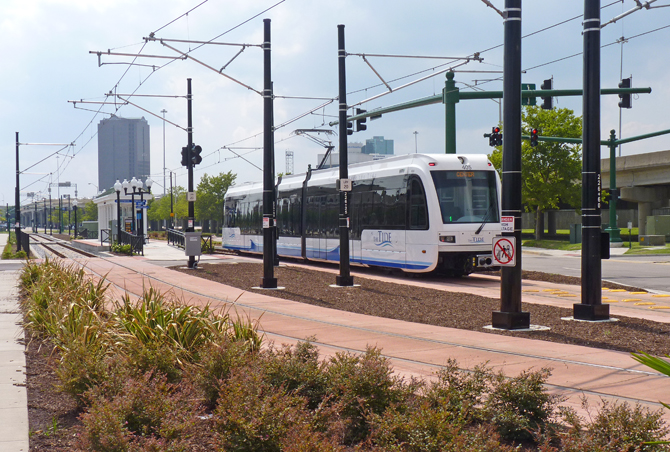 A test train is just entering Harbor Park station.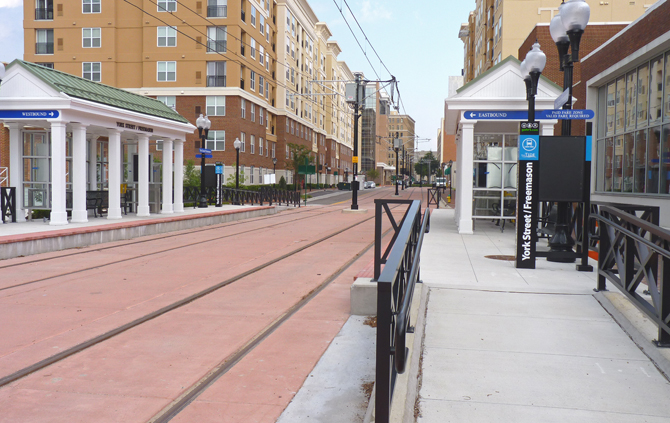 This is York Street/Freemason station. As can be seen, the station takes the whole width of the street.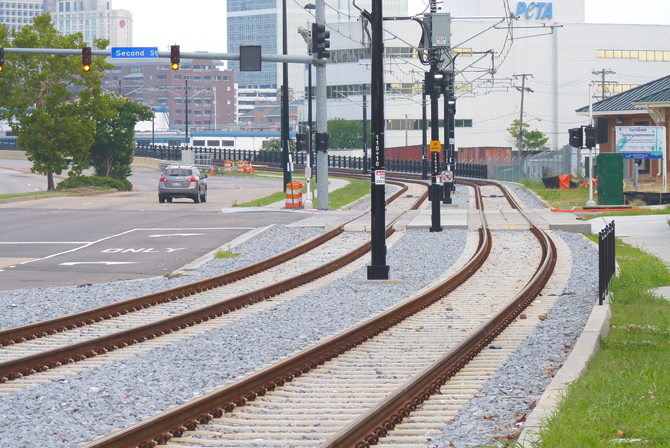 These are the tracks between York Street and the west terminus at Fort Norfolk.
Just before the tracks reach the terminus at Fort Norfolk station, the twin tracks merge into a single track.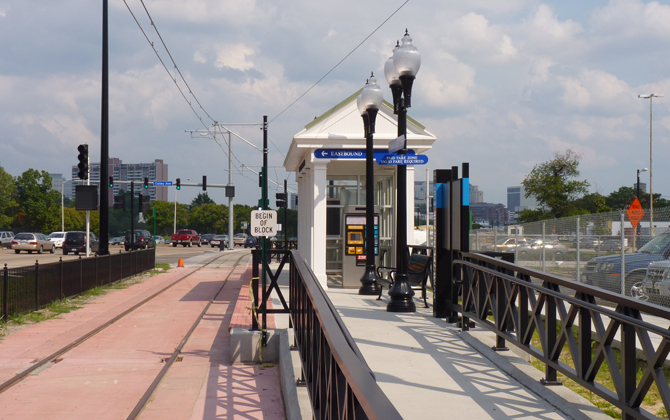 The west terminus at Fort Norfolk/Medical Center. Both terminus stations are single track.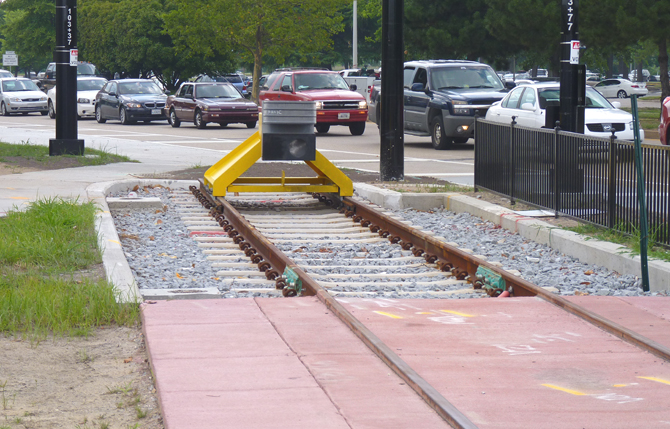 The end of the line at Fort Norfolk. As can be seen, extension would be a simple process.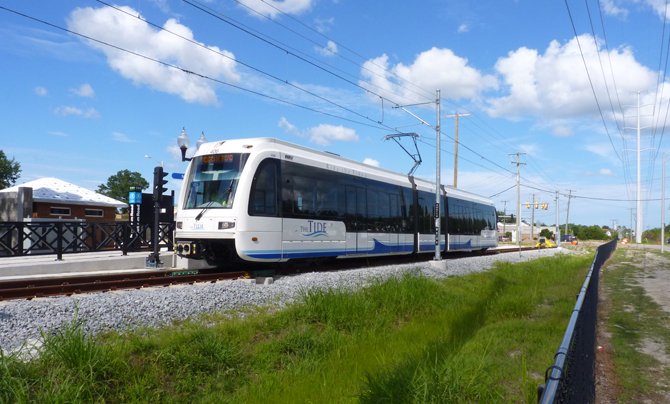 At the eastern terminus at Newtown Road, two-car unit 406 is waiting for another test run.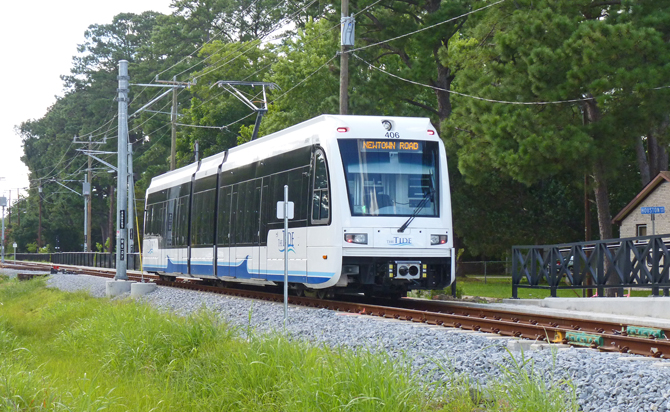 Two-car unit 406 is leaving Newtown Road for another test run.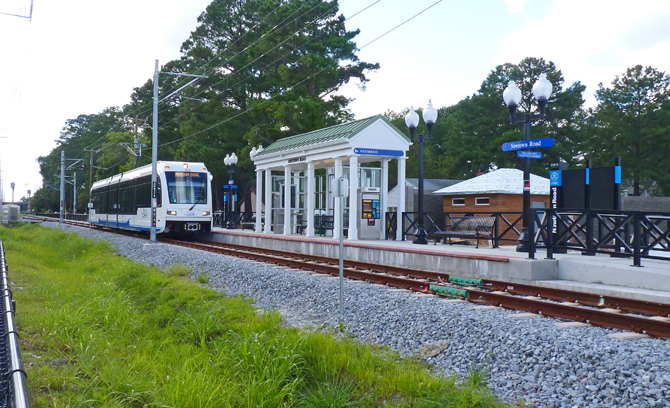 Two-car unit 405 is arriving at the Newtown Road terminus.
Unit 405 standing at Newtown Road has the green light for another test journey to Fort Norfolk at the western end.
For more details of the project, see http://www.ridethetide.com/
For an animated map and views of the project, click here
.
© Copyright M J Smith, 2011
No photographs to be reproduced elsewhere without permission.