PRESERVED & SPECIAL INTEREST
RAILWAY PHOTOGRAPHS
SWINDON & CRICKLADE RAILWAY 2014
The Swindon & Cricklade Railway was originally part of the Midland & South Western Junction Railway, connecting Cheltenham to Andover. Completed in 1891, it closed just 70 years later in 1961. The S&C Railway Society was formed in 1978 and set about rebuilding the railway in the area of Blunsdon. They started with just the track bed and nothing else. There are now two main stations with signal boxes, a large engine shed and engineering workshop, steam and diesel locomotives, and of course, shopping and catering facilities for the visiting public. The Swindon & Cricklade is Wiltshire's only standard-gauge heritage railway.
Recent work involves an extension from Blunsdon, south towards Mouldon Hill Country Park, with a temporary halt at Taw Valley, which provides access to the park. A run-round loop has been installed and services to Taw Valley Halt will operate during the summer of 2014. Further plans involve the continuation of the line into the Country Park with a new terminus there, and the northern extension to Cricklade. The clearing of undergrowth from the trackbed towards Cricklade has already begun.
More details can be found at the S&C website.
These photographs were taken on Sunday 9th March 2014.
BLUNSDON STATION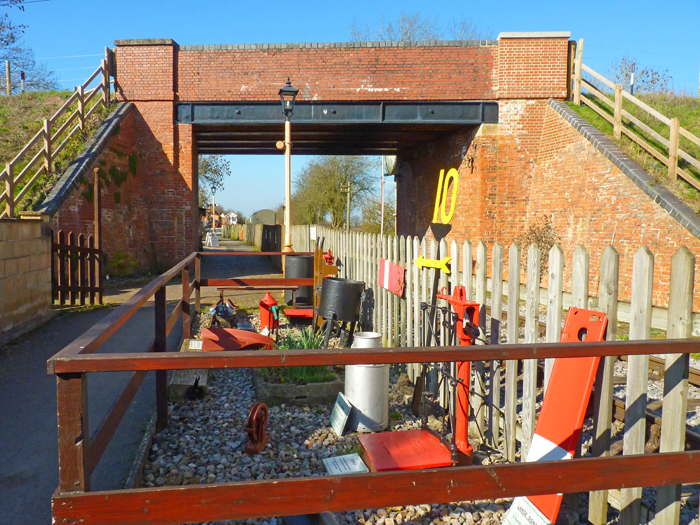 Visitors arriving by road can leave their vehicles in the car park, then walk under the road bridge to the station platform.
This is a display of railway memorabilia.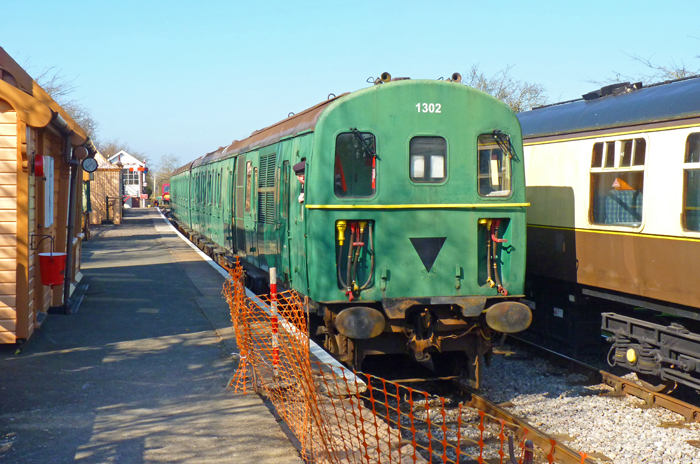 Steam locos run services from Easter onwards. On this visit in March 2014, a two-car DMU
was providing the passenger service between Hayes Knoll, Blunsdon and Taw Valley Halt.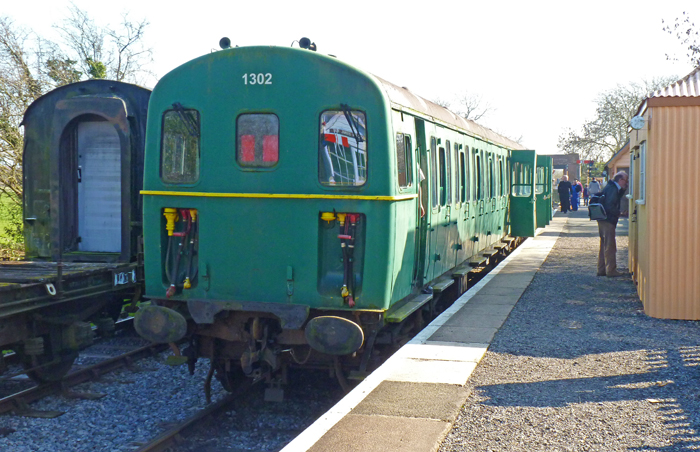 The DMU at Bunsden station awaiting departure to Taw Valley Halt.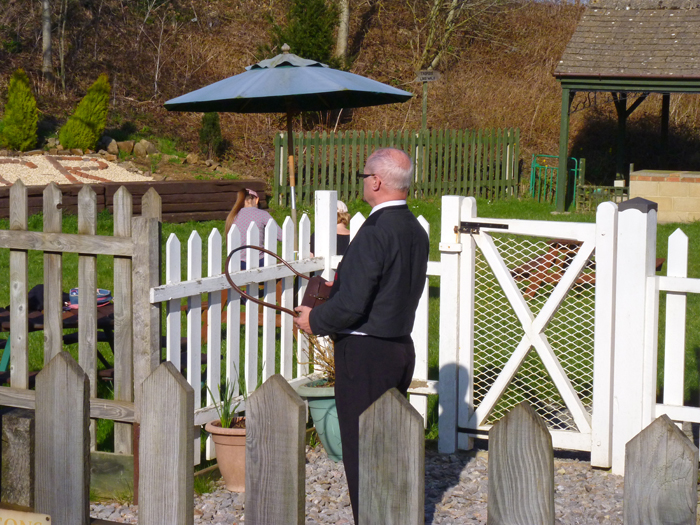 The level crossing keeper waits to hand over the single track token.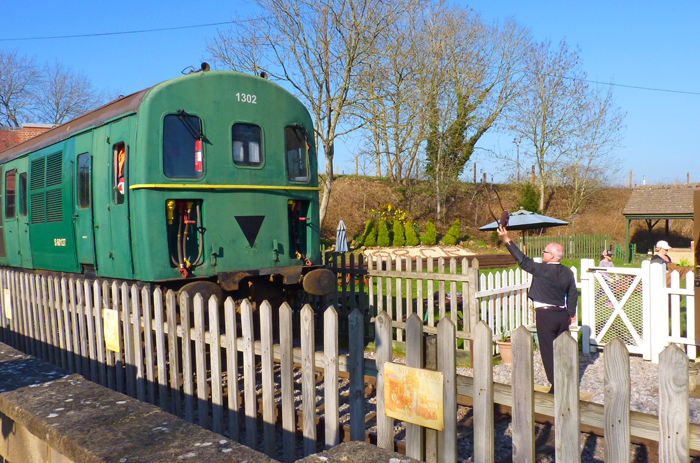 DMU 1302 approaches slowly to collect the single line token, which is held out by the crossing keeper.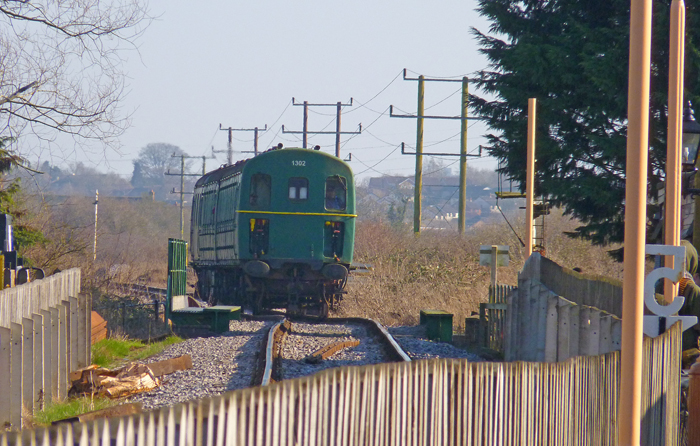 The DMU trundles off from Blunsden on its way to Taw Valley Halt.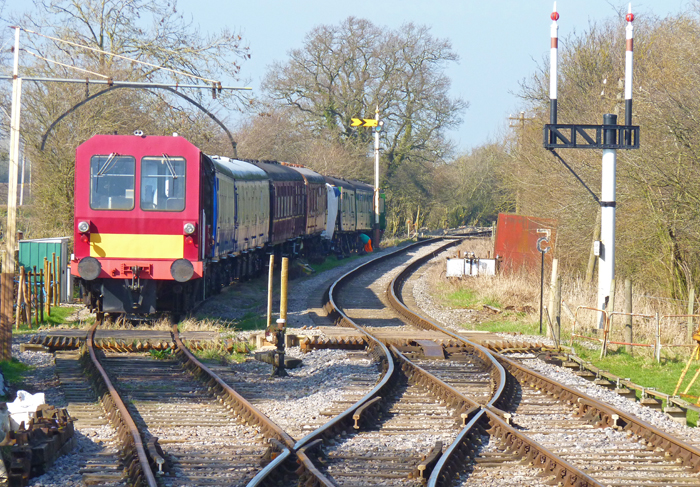 Looking north from Blunsden.
TAW VALLEY HALT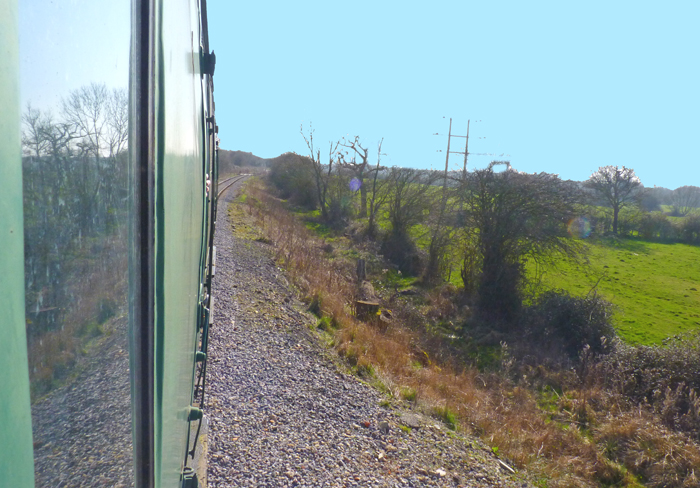 On the way to Taw Valley Halt.
Approaching Taw Valley Halt. The run-round loop can be seen, and the
edge
of the
platform
can just be discerned ahead of the train, on the left.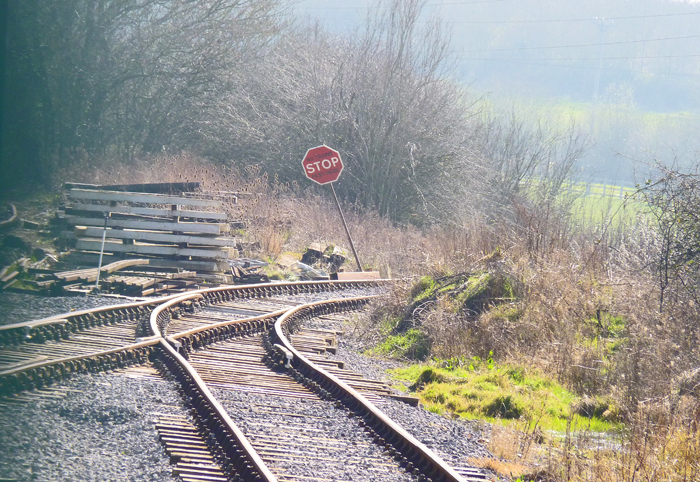 The present end of the line. Tracks will continue into Mouldon Hill Country Park with a new terminus to be constructed there.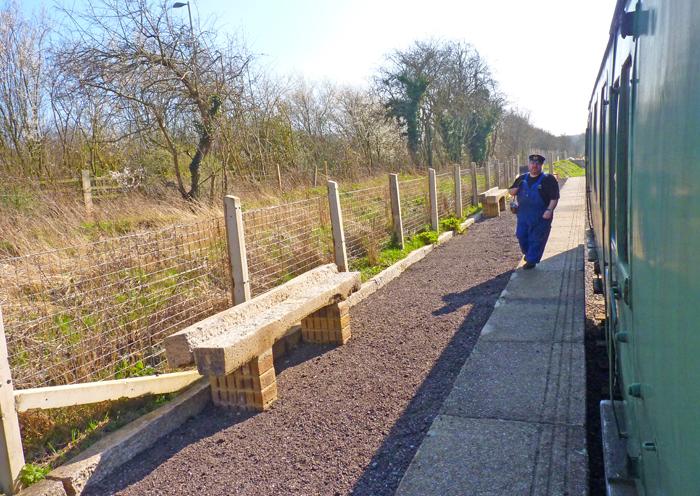 Taw Valley Halt platform looking towards the Country Park.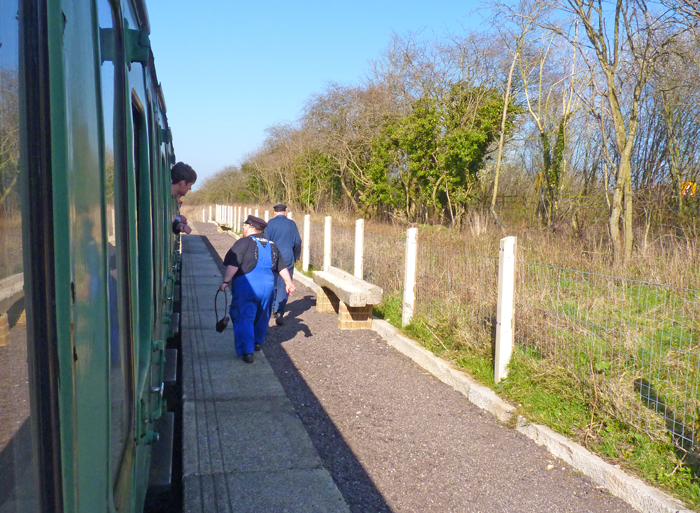 Taw Valley Halt platform looking towards Blunsden.
HAYES KNOLL STATION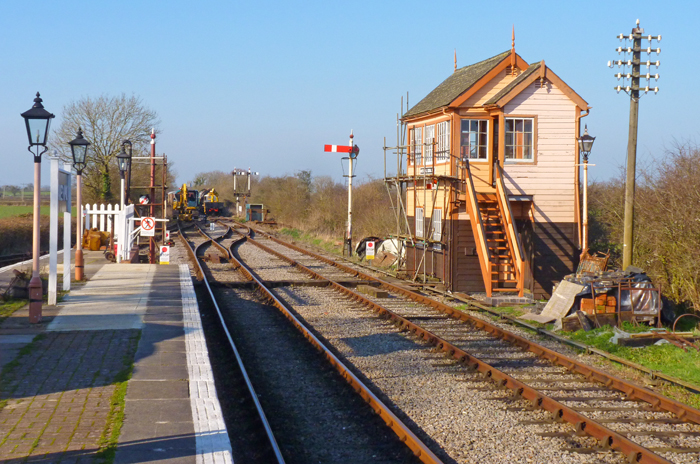 Looking north from the platform at Hayes Knoll.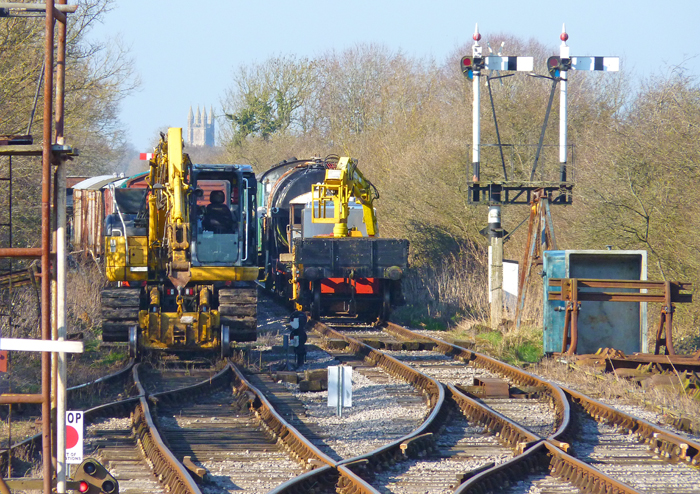 Equipment on the line which heads north from Hayes Knoll towards Cricklade. Tracks are in place as far as
South Meadow Lane. Work has now begun on track-laying up to Farfield Lane.
In the photo above, the church at Cricklade can be seen, showing how close the final destination is.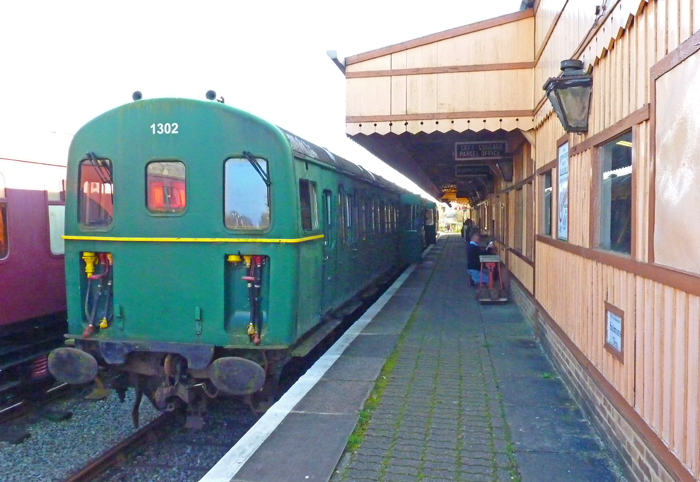 The DMU at Hayes Knoll station.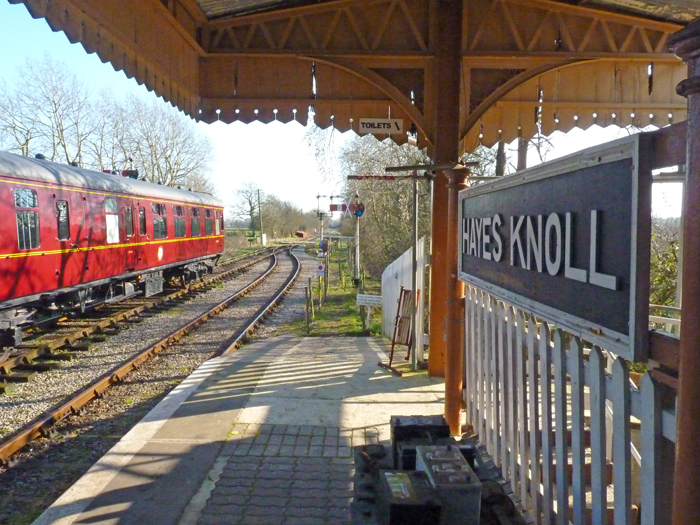 The southern end of Hayes Knoll station looking towards Blunsden.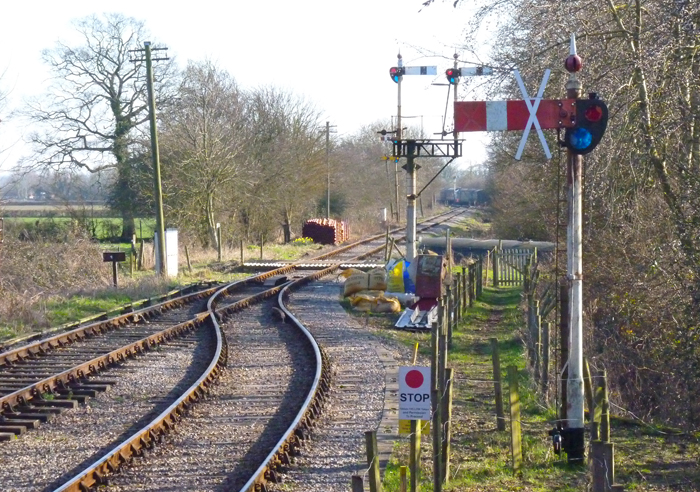 The track from Hayes Knoll station heading towards Blunsden.
© Copyright M J Smith, 2014
No photographs to be reproduced elsewhere without permission.