PRESERVED & SPECIAL INTEREST
RAILWAY PHOTOGRAPHS
To celebrate the 125th Anniversary of the opening of the Swanage branch line in 1885, the railway organised a Victorian Day with a re-enactment of the first train to leave Swanage on 20th May 1885.
Many people were dressed in Victorian costume, including the Swanage Mayor and Mayoress, and station staff. A Beattie well tank locomotive, built in 1874, and similar to the loco that hauled the first ever train was on loan to Swanage for the several days of celebration.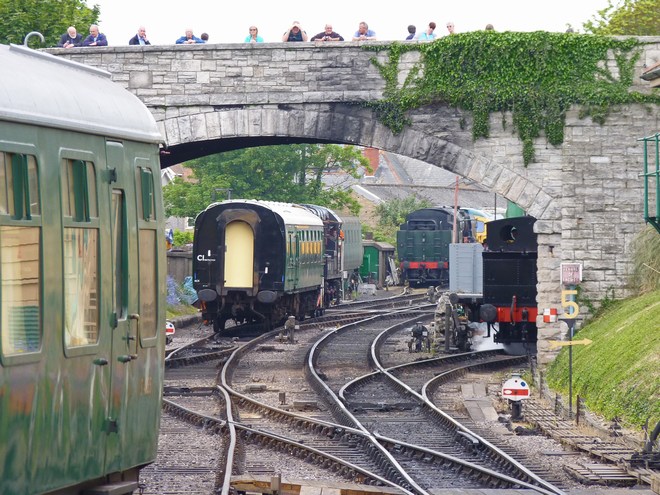 30585 2-4-0 Beattie Well Tank quietly steaming in the siding to the right of the railway bridge.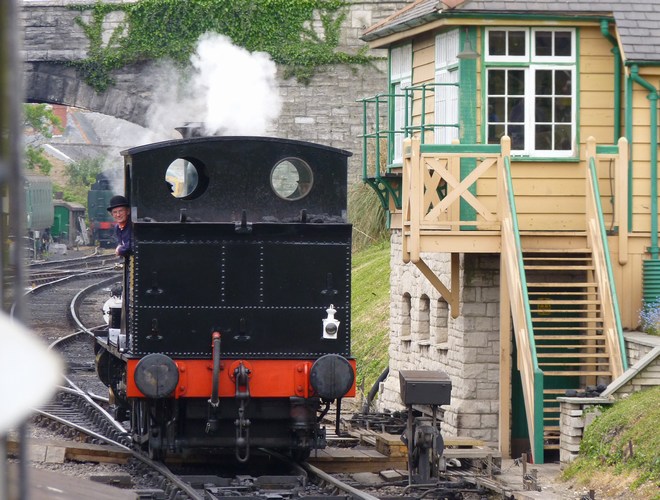 30585 reversing towards the carriages waiting to form the re-enactment train.
The driver of 30585, in Victorian garb, looks on as the loco takes on water.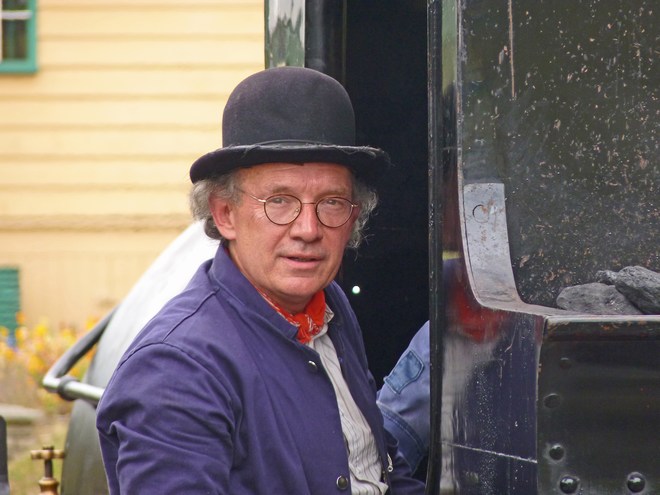 The fireman takes a keen interest as the loco waits to move off.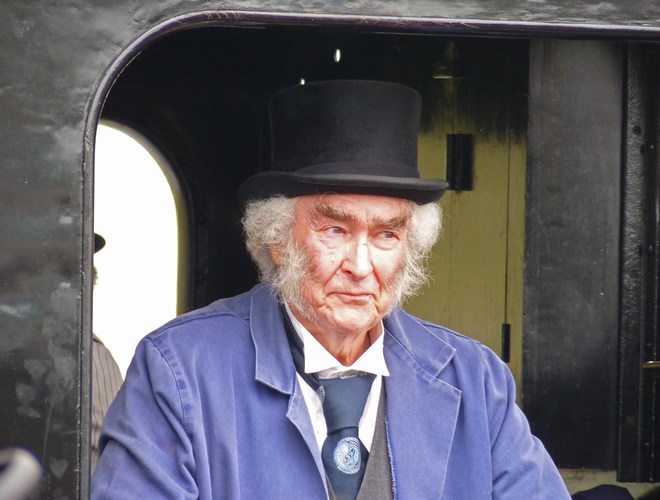 The driver - every inch a Victorian gentleman.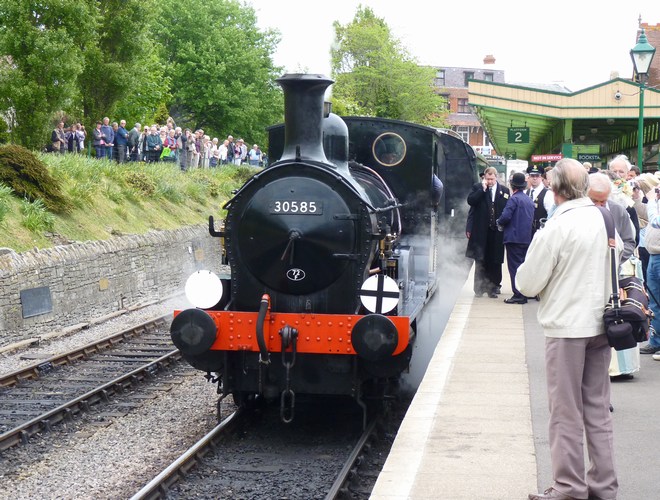 30585 coupling up to the special train. She is ex-LSWR, built in 1874,
and on loan from the Buckinghamshire Railway Centre.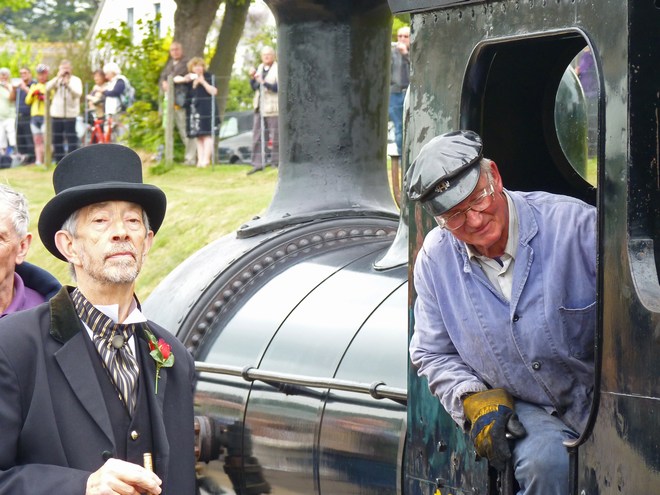 The Station Master waits to see the green flag waved by the guard.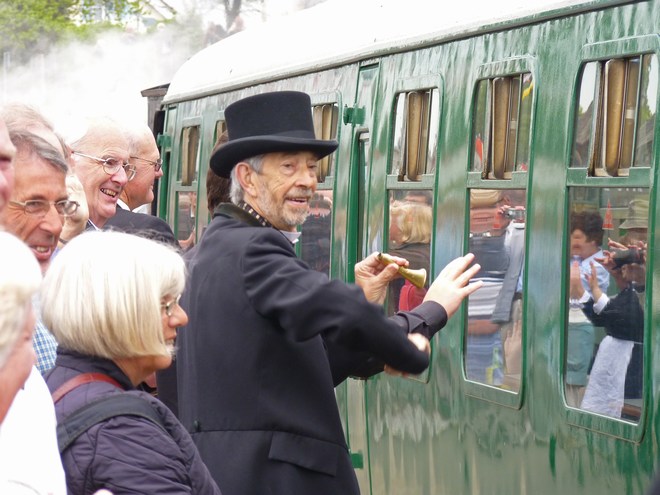 ... and it's off! The Re-enactment Special, full of local school children, leaves Swanage for Norden.
| | |
| --- | --- |
| Barrel Organ player on the platform at Swanage. | Resplendent Station Master. |
| The lady is Liz Sellen, a Director of the Railway. | Various "Victorians" |
| Two Victorian Ladies | Local School Children joined in the fun. |
| Exotic headwear | These are volunteers from the shop. |
| The Swanage Lady Mayoress | The Swanage Mayor and Lady Mayoress |
The little 2-4-0 Beattie Well Tank, looking very smart, is on a run round during a subsequent trip.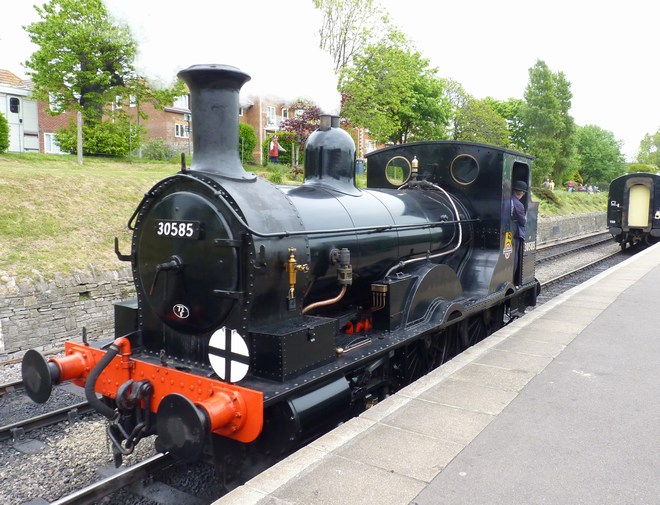 The 1874, ex-LSWR 2-4-0 well tank is reversing up to the waiting carriages.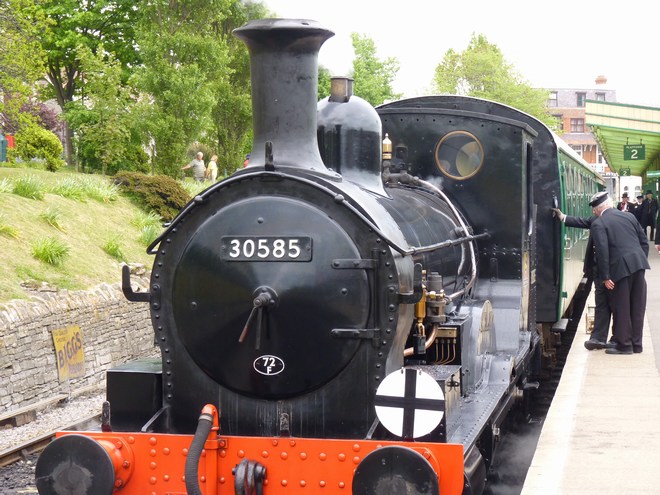 30585 ready for another run from Swanage to Norden.
This shot shows the loco to be quite small when compared to the Mark 1 BR carriages.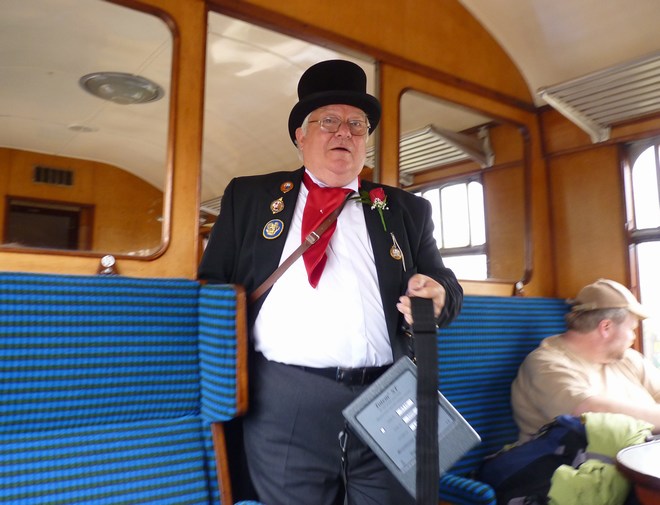 The travelling ticket inspector was also dressed in Victorian style.
© Copyright M J Smith, 2010
No photographs to be reproduced elsewhere without permission.