PRESERVED & SPECIAL INTEREST
RAILWAY PHOTOGRAPHS
This preserved box probably dates from around 1871, and is thought to have been one of the oldest boxes still in service when it was closed in 1982. It controlled the junction between the double-track Eastleigh-Salisbury main line and the single-track branch to Southampton via Redbridge. Later, a branch to Andover and various goods yards came under the control of the box.
A major resignalling scheme in the early 1980s, with control being taken over by Eastleigh, resulted in Romsey signal box being closed on 17th October 1982. Most of the fittings in the signal box were removed at that time. After closure, British Rail planned to demolish the redundant building, but the Romsey and District Buildings Preservation Trust agreed to purchase the box for £10 and fund the £1,000 removal costs. In June 1983, the wooden first floor, weighing about a ton and the 23-lever frame, weighing over three tons, were lifted across the tracks to a temporary position on the other side of the embankment. A new brick-built ground floor was constructed on a piece of land bought from Hampshire County Council, and in April 1987, the signal box was reassembled.
The Romsey Signal Box Project was established, and began the search for suitable equipment to fit out the signal box in a style similar to how it looked before closure. The resignalling of the Weymouth area provided many parts which now form part of the exhibit at Romsey. The work was completed, and the box restored to operation on 17th October 1992, the tenth anniversary of its closure. Work has continued since then to make the signal box area attractive and usable. The site now has working mechanical and colour light signals, a ground frame and a short length of track with a set of points. This enables the Friends of Romsey Signal Box to demonstrate most of the features of mechanical railway signalling, a technology that can be traced back to the 1870s. The box is open to the public on the first Sunday of each month, for special events during the year, and at other times by special arrangement.
See the Romsey Signal Box website at: http://www.romseysignalbox.org.uk
The photographs below were taken on Saturday 16th October 2010.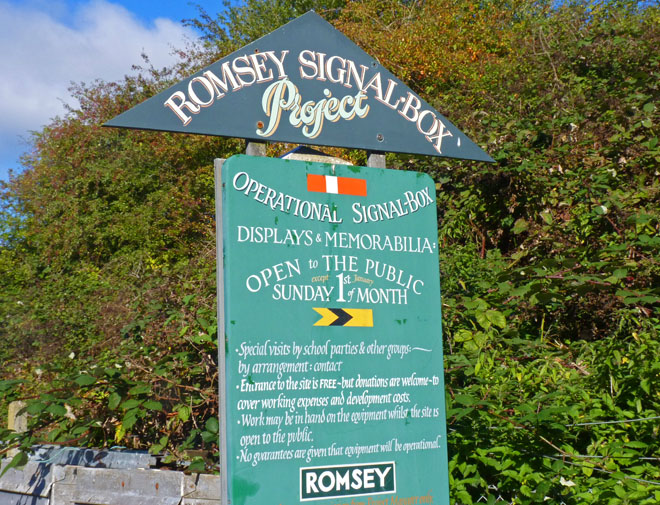 Sign at the entrance to the Signal Box Site.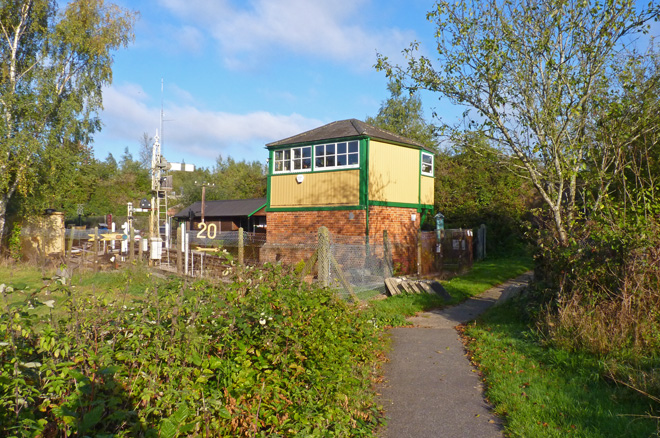 The approach to the signal box site from their own car park.
The restored signal box in Southern Region colours.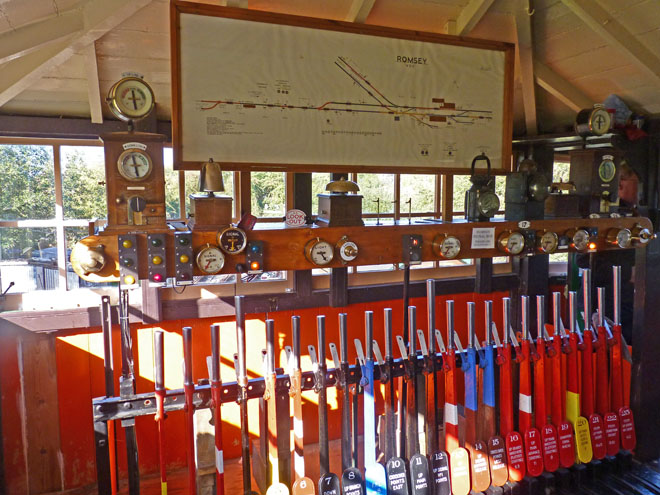 The interior of the box, with gleaming brass.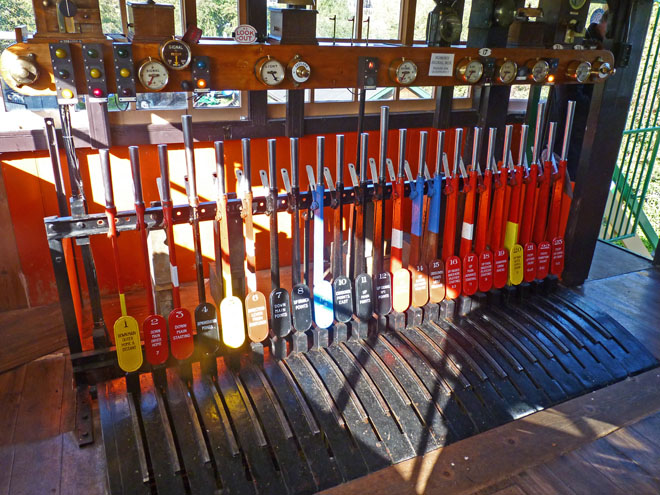 The impressive lever frame.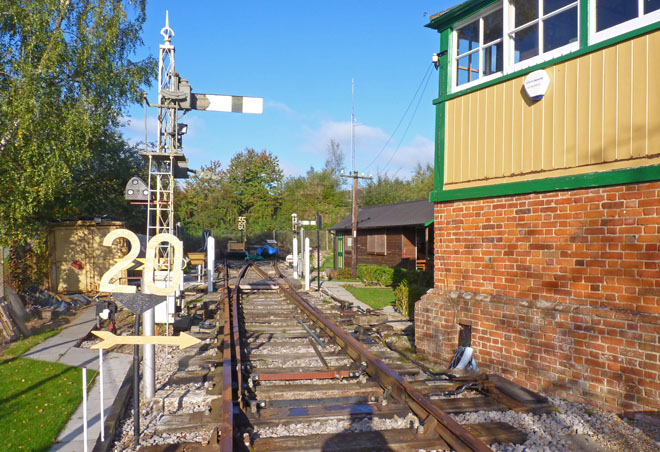 This short track has a set of points, operated from the levers inside.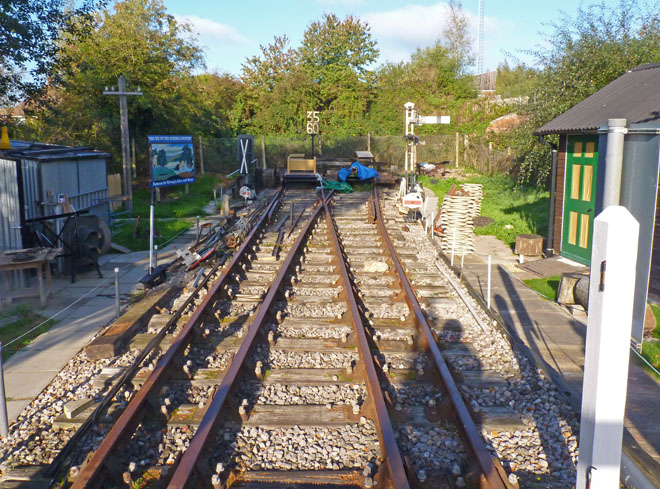 Further along the short section of track.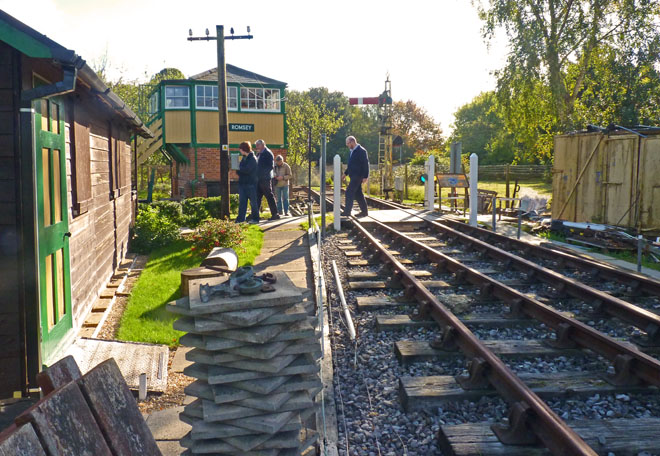 Looking back towards the signal box from the far end of the site.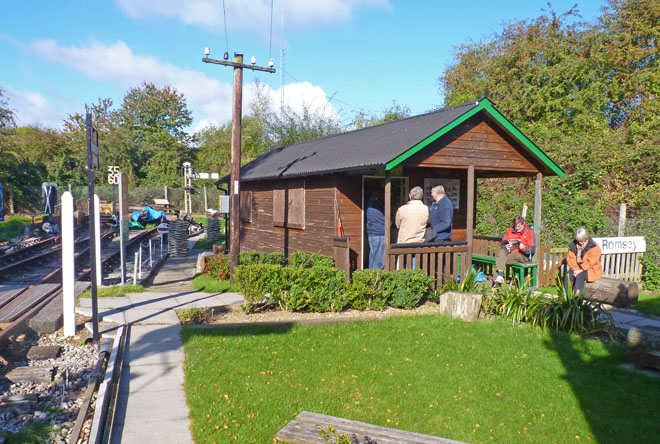 This hut contains dozens of photographs, newspaper cuttings etc about the signal box.
Other railway artifacts are also on display.
© Copyright M J Smith, 2010
No photographs to be reproduced elsewhere without permission.