PRESERVED & SPECIAL INTEREST
RAILWAY PHOTOGRAPHS
MID HANTS RAILWAY
(THE WATERCRESS LINE)
October 2009
The line from Alton to the main line two miles north of Winchester was opened in 1865. Although owned by a private company, it was staffed and operated by the L&SWR from the beginning, and the larger company absorbed the line in 1876. The line was never a great success, although it was used by expresses on occasion if the main line through Basingstoke was unavailable. Diesel units replaced steam in 1957, providing an hourly service between Alton and Southampton. Passenger traffic was not sufficient to support the service however, and the line was closed in 1973.

Immediately after closure, local volunteers formed the Mid Hants Railway, and through share issues and other fund-raising, they were able to purchase the track bed. A steam service from Alresford to Ropley opened in 1977, and the extension to Alton Station was completed in 1985, with the Mid Hants trains using platform 3. West of Alresford, the station at Itchen Abbas has been demolished for a small housing development, and the M3 severs the old track bed near Winchester, so no westward extension is feasible.

The stations now on the line are Alton, Medstead & Four Marks, Ropley and Alresford. The Watercress Line, as it is generally known, is now one of the most successful heritage railways in southern England.

These photos were taken on Sunday 18th October 2009

.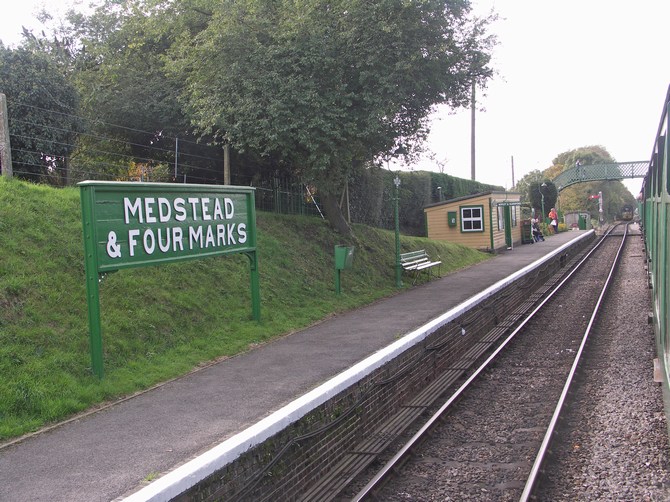 Medstead & Four Marks station down platform.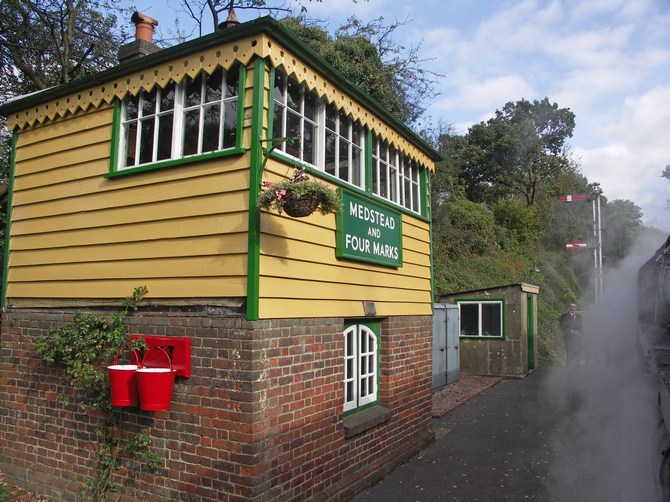 The Signal Box at Medstead & Four Marks.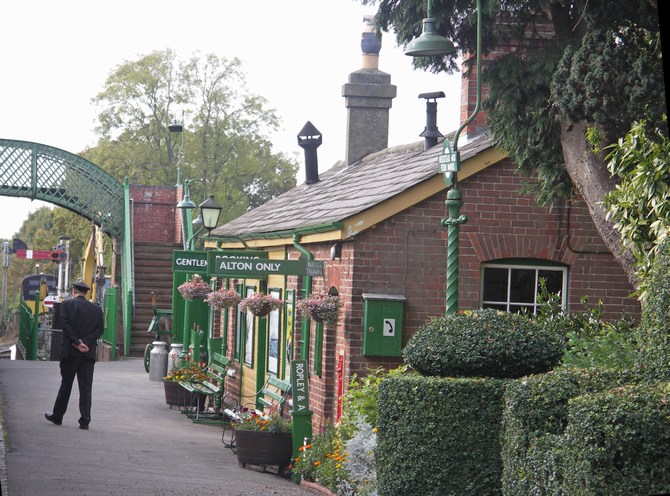 The Station buildings on the up platform at Medstead & Four Marks.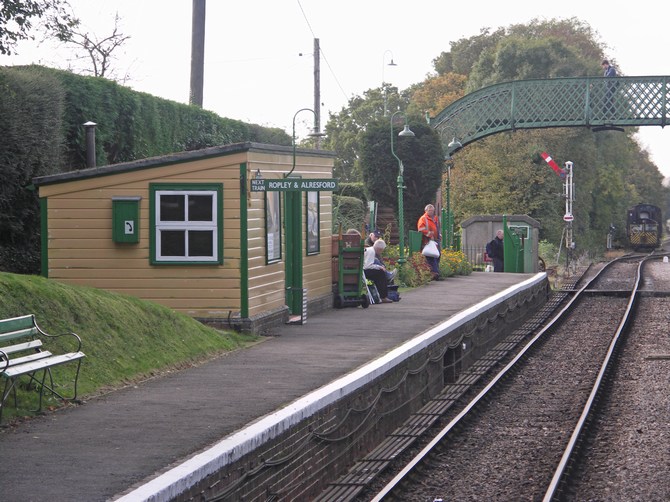 Medstead & Four Marks station down platform.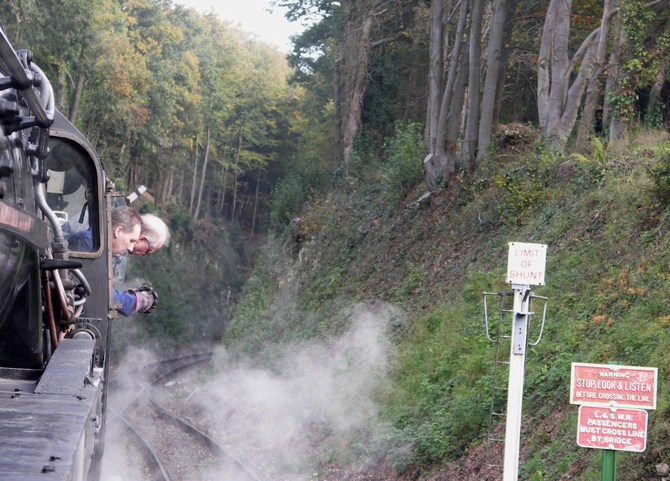 The footplate crew taking a breather at Medstead & Four Marks station.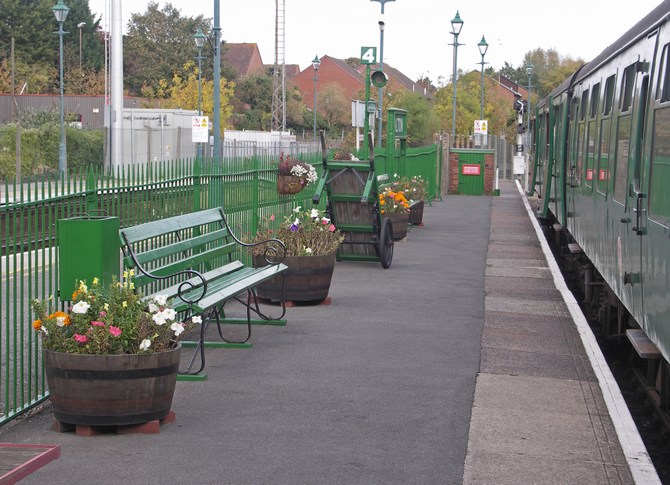 The Mid Hants platform 3, looking towards London.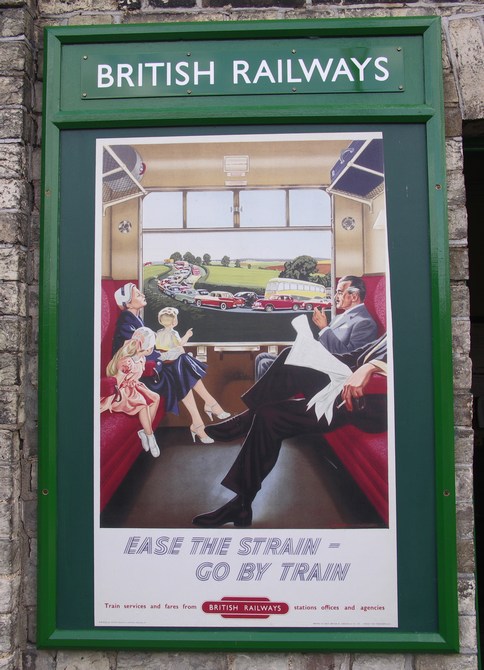 Period poster.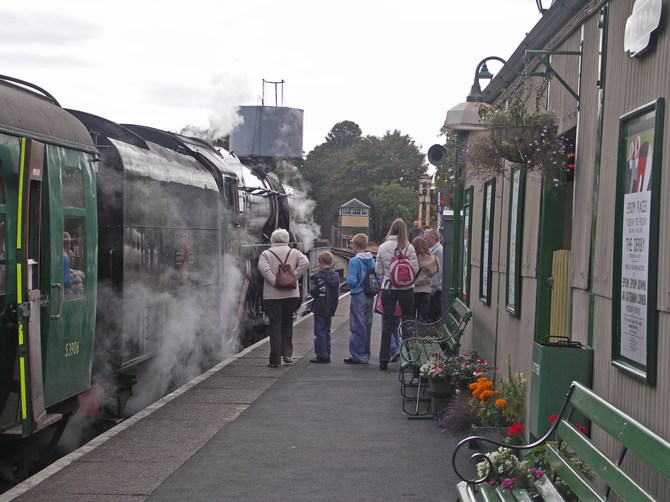 Looking towards Alresford.
The locomotive is BR 92212, a 2-10-0 built at Swindon in 1959.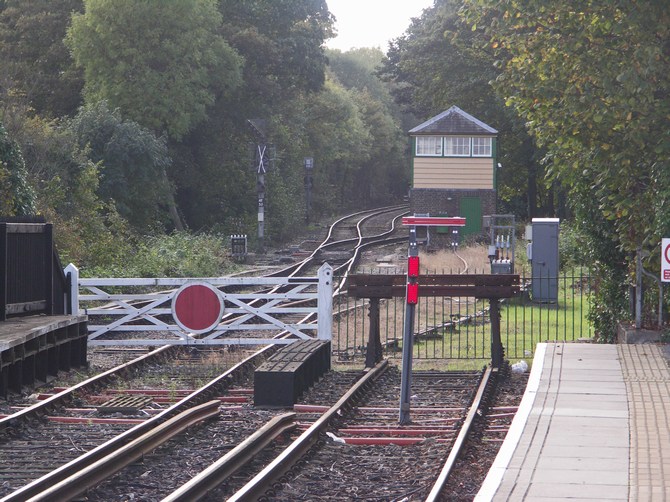 Looking towards Alresford from Platform 1.
Note the 5-bar gate and metal railing, indicating the extent of Network Rail
and the beginning of the Mid Hants Railway land.
The rail connection allows transfer between Mid Hants and the Main Line.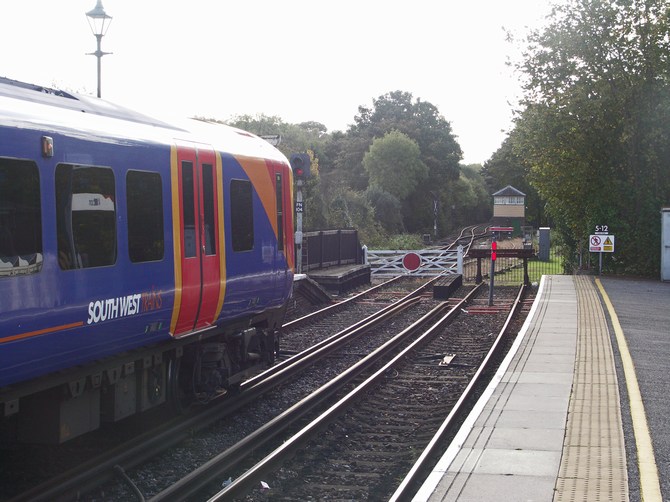 Again looking towards Alresford from Platform 1, with a South West Trains EMU on Platform 2.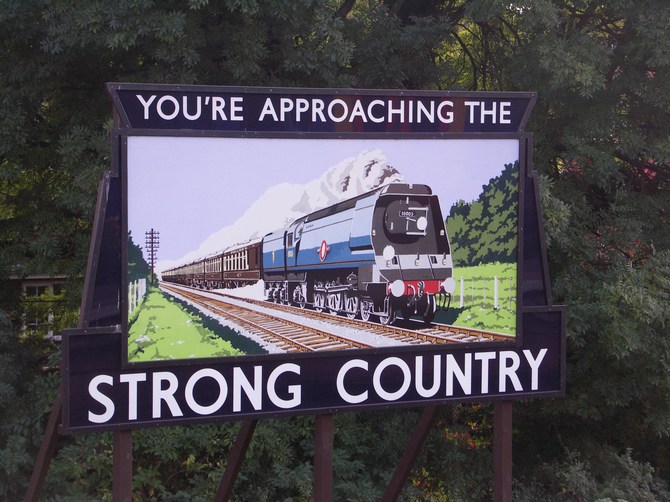 Another period poster. Strongs were a Romsey-based brewer,
and had this style of trackside poster around Hampshire railway lines.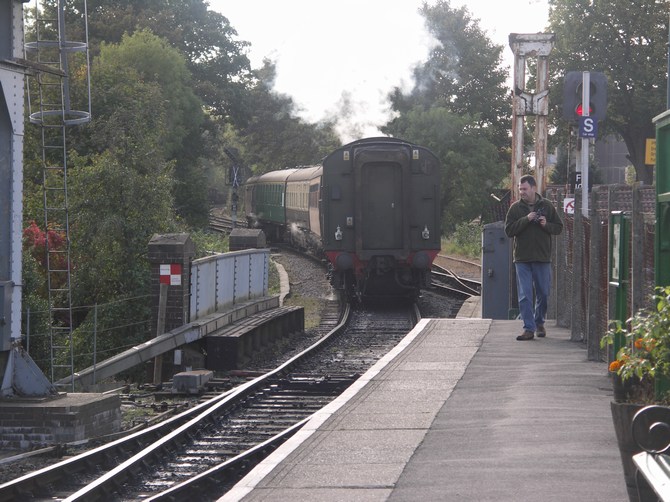 The Gresley A4 "Bittern" is approaching Platform 3, tender first.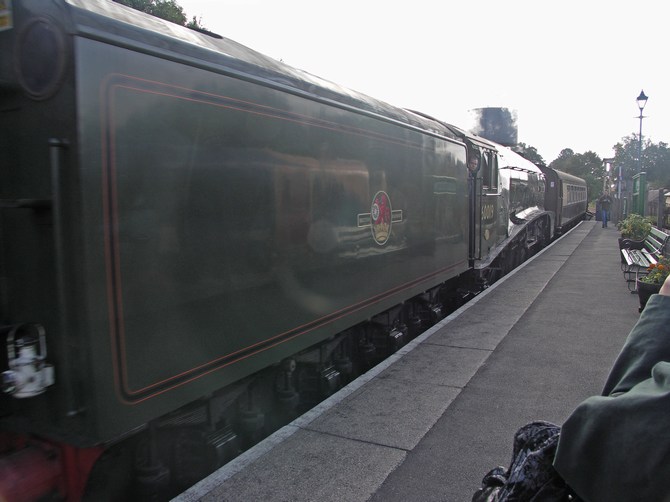 The Gresley A4 "Bittern" was built by the LNER at Doncaster in 1937.
She is, of course, sister to the record-breaking "Mallard".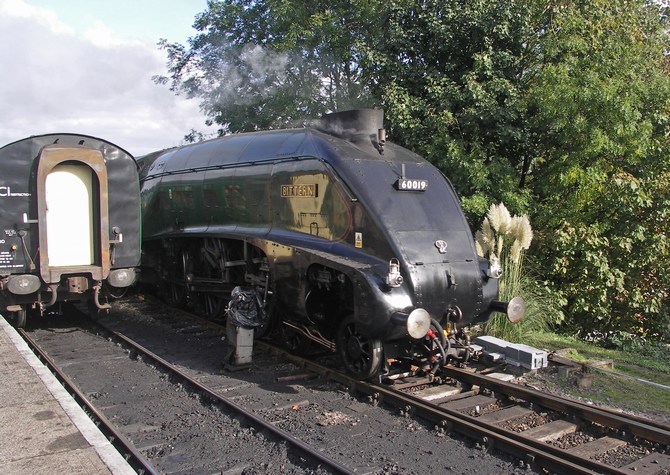 "Bittern" just emerging from behind her train, preparing for the return to Alresford.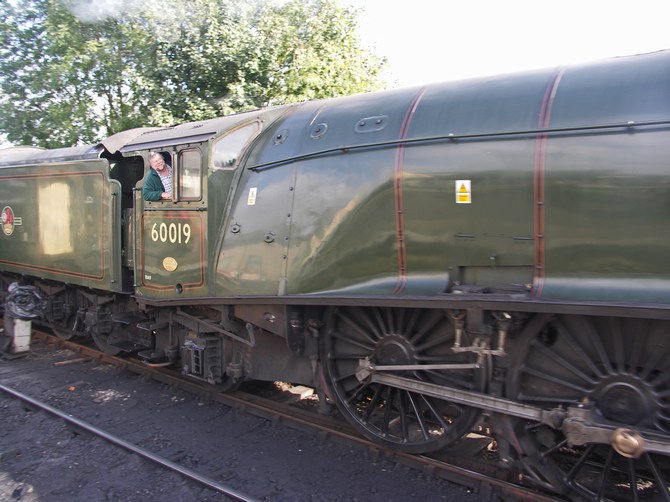 "Bittern" passing by.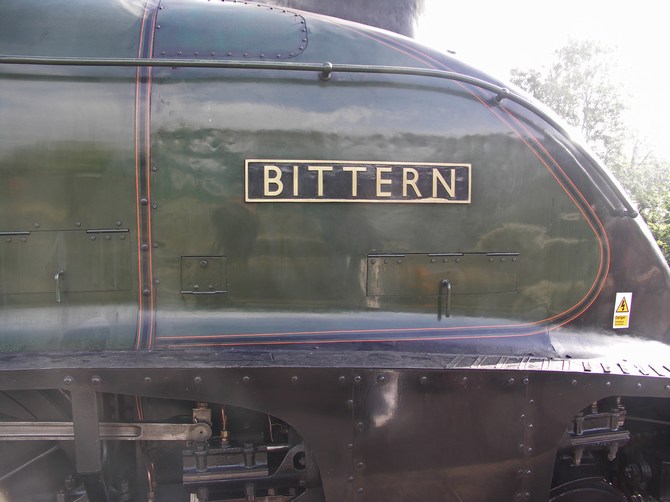 Bittern's name plate.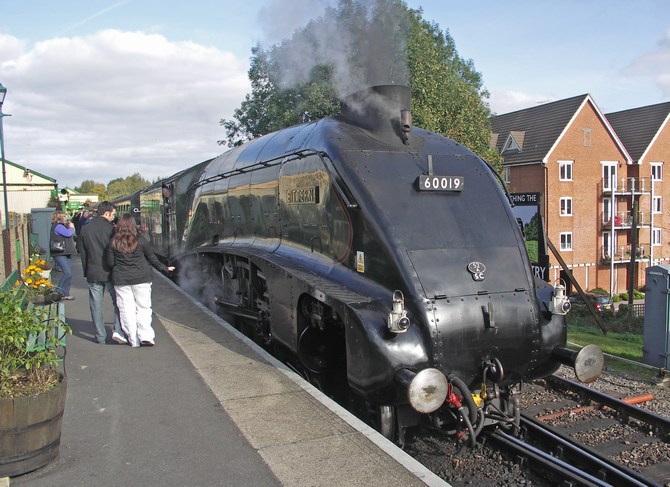 Now attached to her train, "Bittern" waits for the return journey.
© Copyright M J Smith, 2009
No photographs to be reproduced elsewhere without permission.