PRESERVED & SPECIAL INTEREST RAILWAY LINKS
for Southern England & South Wales
Southern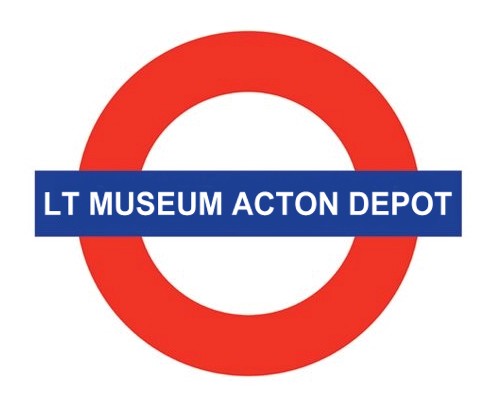 Acton Depot is an overspill from the main London Transport Museum in Covent Garden, central London. The depot is home to many underground trains and buses, as well as an amazing selection of old tube station signs, ticket machines and general bric-a-brac.
The depot, which is opposite Acton Town tube station, organises special open weekends a certain times of the year. There was an open weekend on the 7th/8th March 2009, and the photos that follow were taken there on the Saturday of the weekend.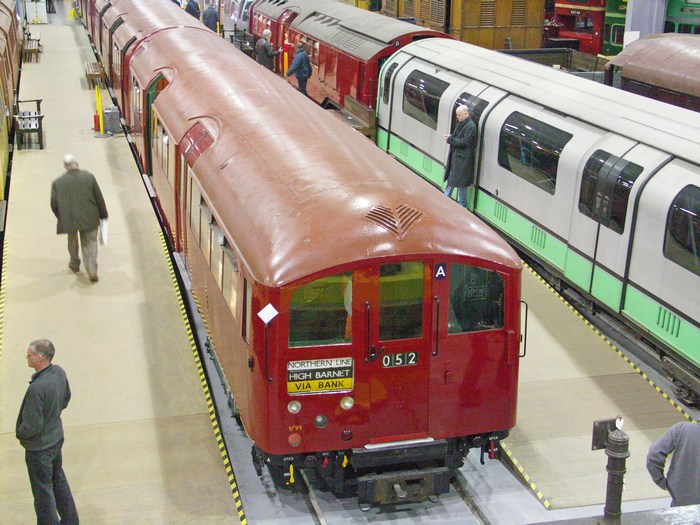 An example of the 1938 tube stock which was mostly seen on the Bakerloo and Northern lines from the 1940s to the 1960s.
Close up of the front of the 1938 stock motor coach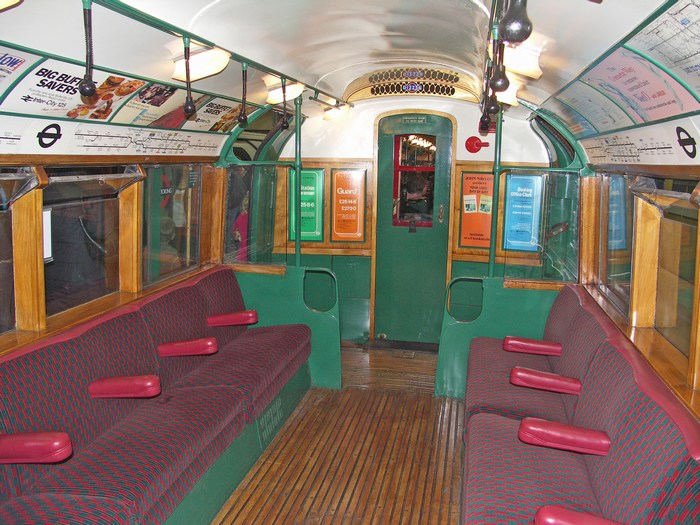 Passenger accommodation on the 1938-stock tube trains. Note the glass shades over the light bulbs.
These shades gradually disappeared during the 1960s (personal recollection).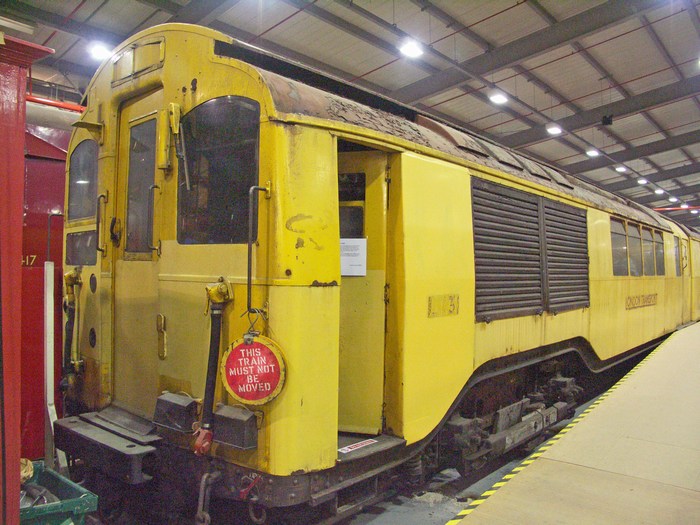 Example of a "standard stock" motor unit. These trains were built during the period 1923 to 1934 with only minor
changes to the design during that period. The main point about these vehicles is that the motor control gear is
located above the wheels, behind the driver. From the 1938 stock onwards, the gear is below the floor, making
more room for passengers. They were used on all tubes lines, but after the 1938 stock appeared on the
Bakerloo and Northern lines, these trains worked mostly on the Central and Piccadilly lines.
This example is in "engineer's" yellow livery, and is said to be waiting for restoration back to red.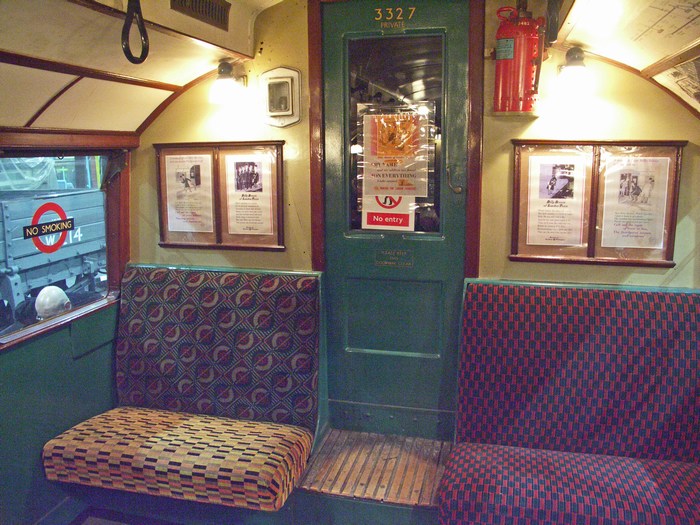 The interior of a 1923 to 1934 "standard stock" motor unit, showing the
step up to the control gear room gangway, leading to the driver's cab.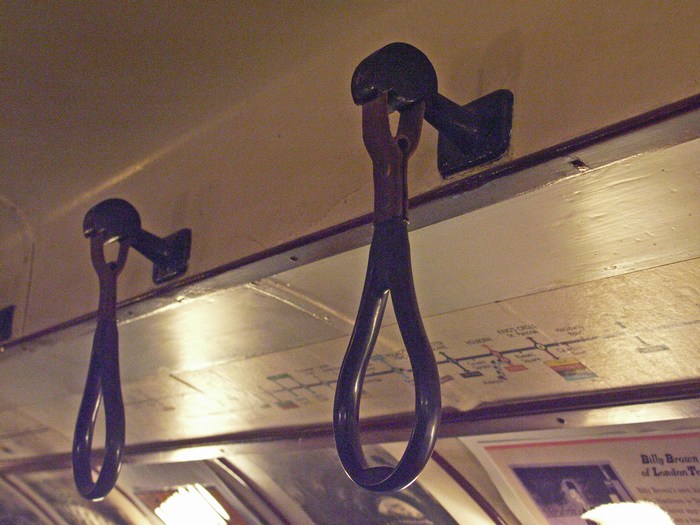 The straps of the 1932-1934 trains, which enabled standing passengers to "strap-hang".
The diagram map behind shows the train was used on the Piccadilly line.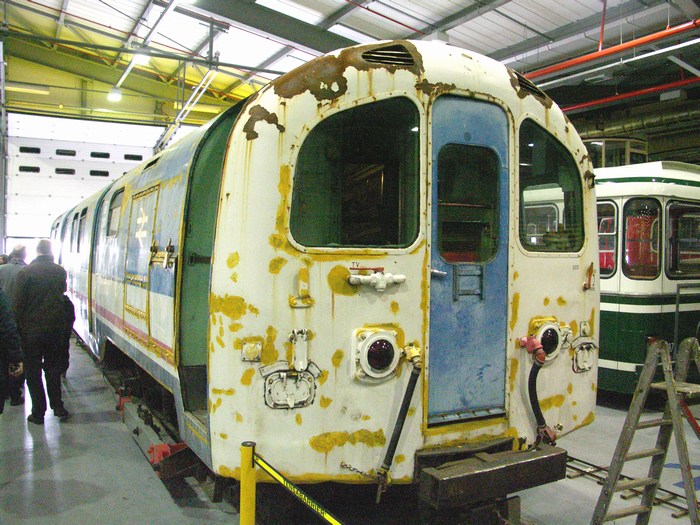 A sad-looking Waterloo & City tube motor car. This is a survivor of the sets delivered in 1940, and which
remained in service until 1992, when they were replaced with standard (Central line) tube stock.
The Waterloo & City was not part of the London Underground until the 1990s, having been operated by the
London & South Western Railway from 1907, the Southern Railway from 1923, and the Southern Region
of British Railways from 1948. The trains were in Southern green livery until the introduction of British Rail's
Network South East, when they were repainted in the new standard livery of red, white and blue stripes.
SELECTION OF OLD TUBE STATION SIGNS NOW AT ACTON DEPOT MUSEUM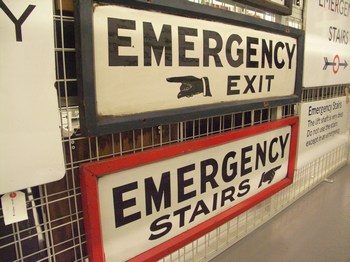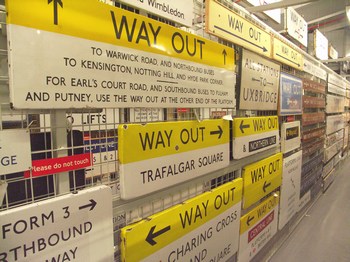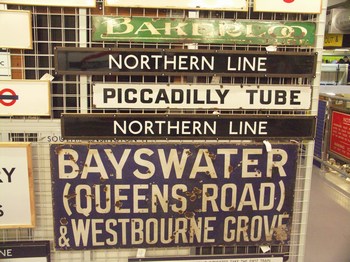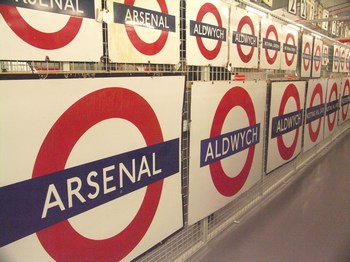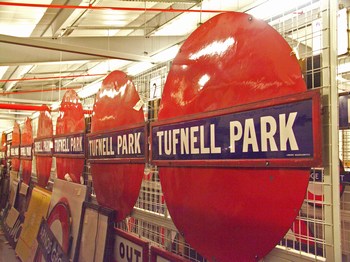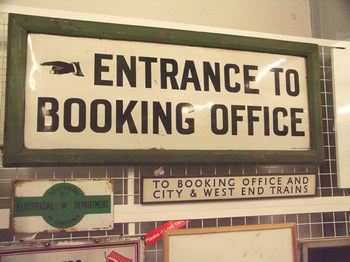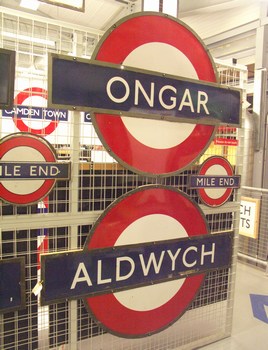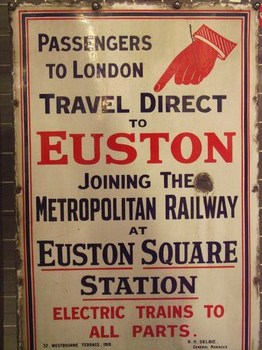 © Copyright M J Smith, 2009
No photographs to be reproduced elsewhere without permission.