The railway is a former branch line of the Furness Railway and was opened on 1 June 1869.  The line was served by local passenger trains which started their journey at Ulverston on the Furness Railway's mainline from Carnforth to Barrow-in-Furness. The branch line trains travelled on to stations at Haverthwaite, Newby Bridge halt and Lakeside on Lake Windermere. The weekday passenger service in July 1922 comprised eight trains in each direction. There were advertised train-to-boat connections that were established in 1869. During the summer season, excursion trains from Lancashire and elsewhere used the branch to reach Lakeside, where passengers joined the boat sailings on the lake. The Furness Railway became part of the London Midland Railway in 1922.
British Railways closed the line to passengers on 6 September 1965, and to all traffic two years later. The need to build a number of motorway bridges and the re-routing of the A590 road from Haverthwaite via Greenodd to Plumpton Junction, meant that it was not possible for preservationists to acquire the whole line. The 3.5 miles from Lakeside to Haverthwaite opened as a heritage railway on 2 May 1973. It remains very popular with visitors to the Lake District, and tickets covering trains and Lake Windermere boats are available.
These photographs at Haverthwaite station were taken on 6th May 2013.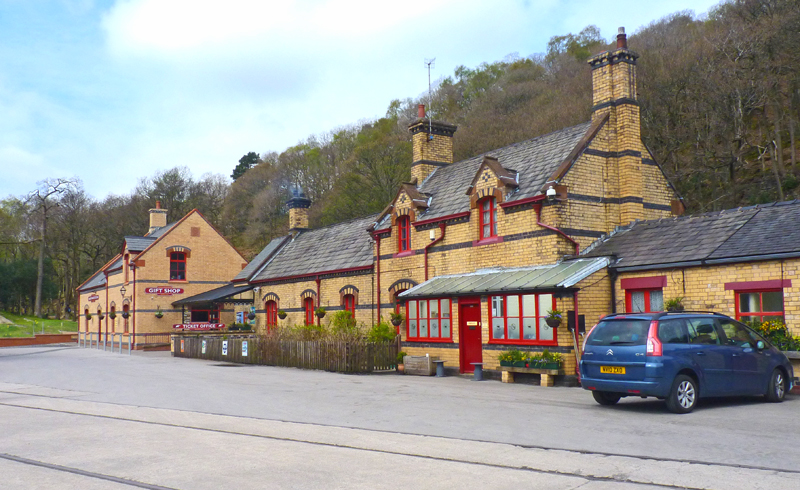 The front of Haverthwaite Station.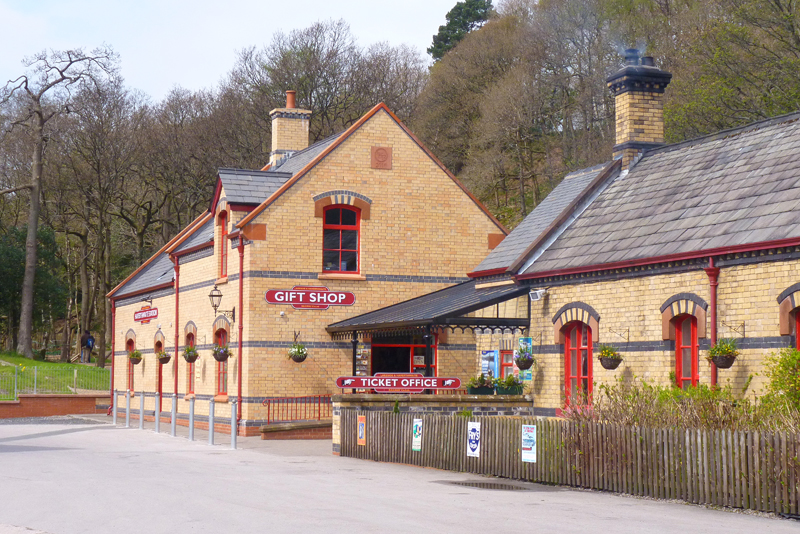 The gift shop building was constructed in 2010, following the same design as the original buildings.
Haverthwaite station platform.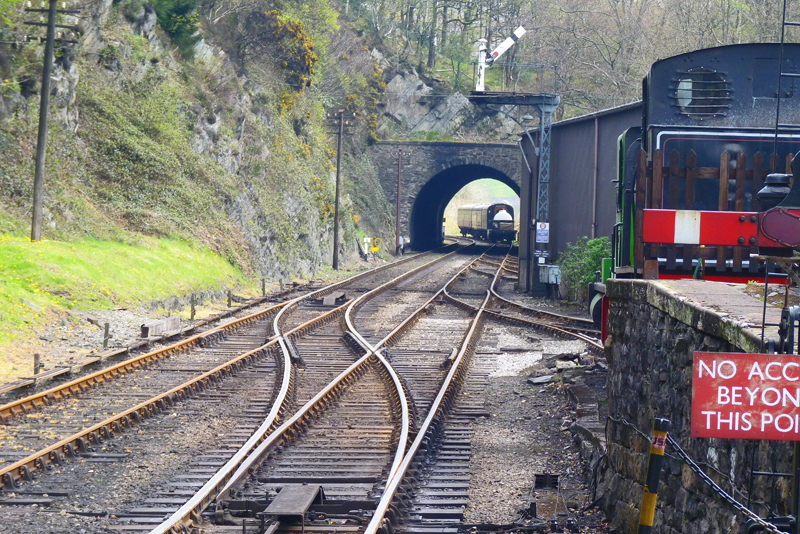 Looking in the direction of Lakeside.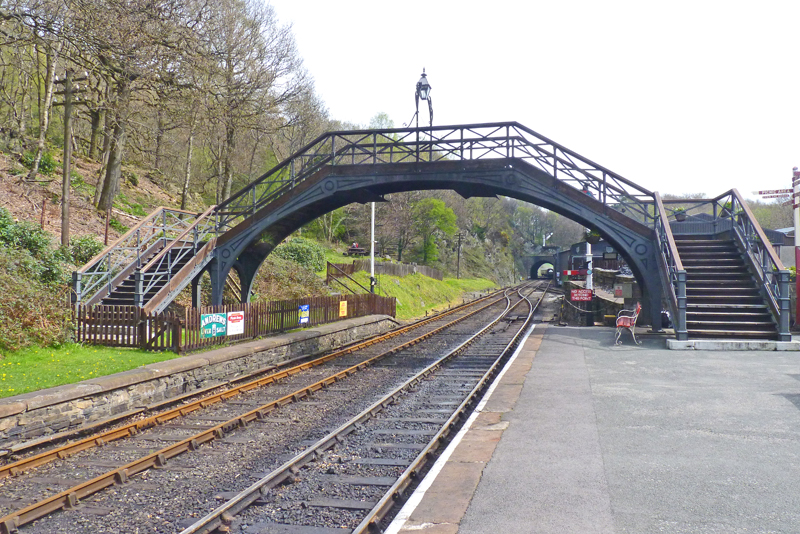 The footbridge now allows passengers to access the picnic area on the embankment.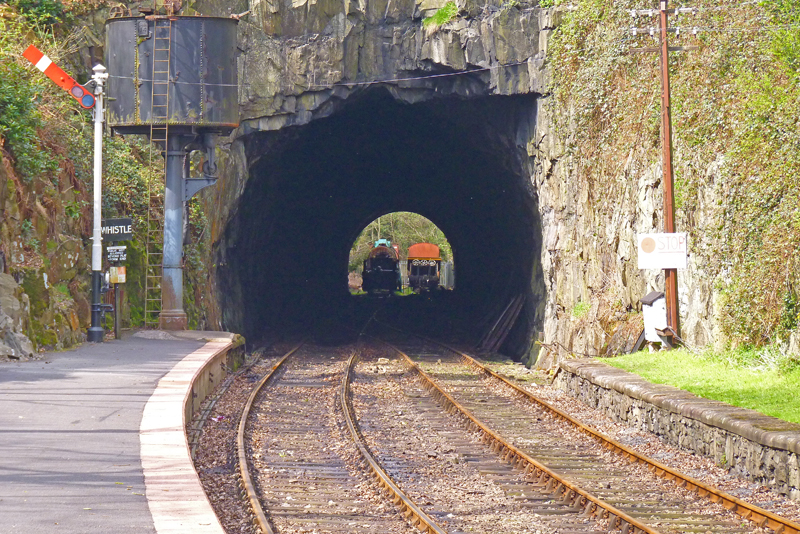 Haverthwaite station ends at a tunnel. The line finishes just beyond the rolling stock at the other end.
The tunnel now forms part of the locomotive run-round loop.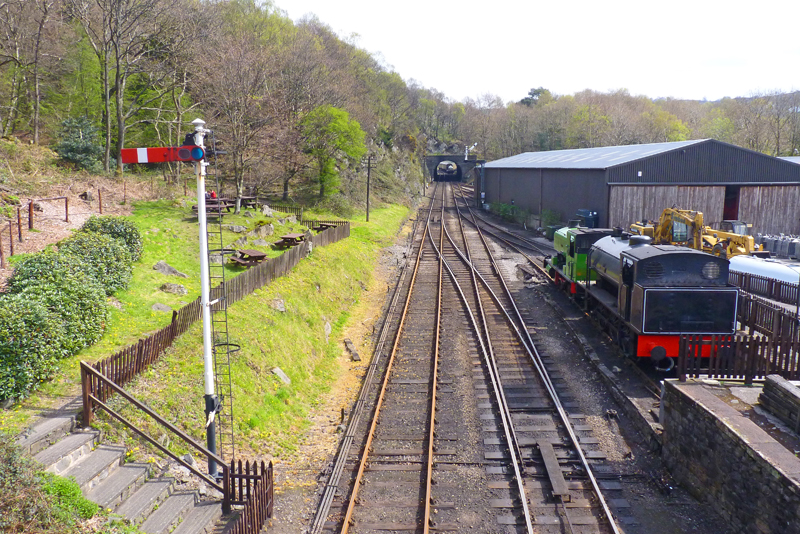 Looking towards Lakeside, as seen from the footbridge.
The picnic area, mentioned earlier, can be seen on the left.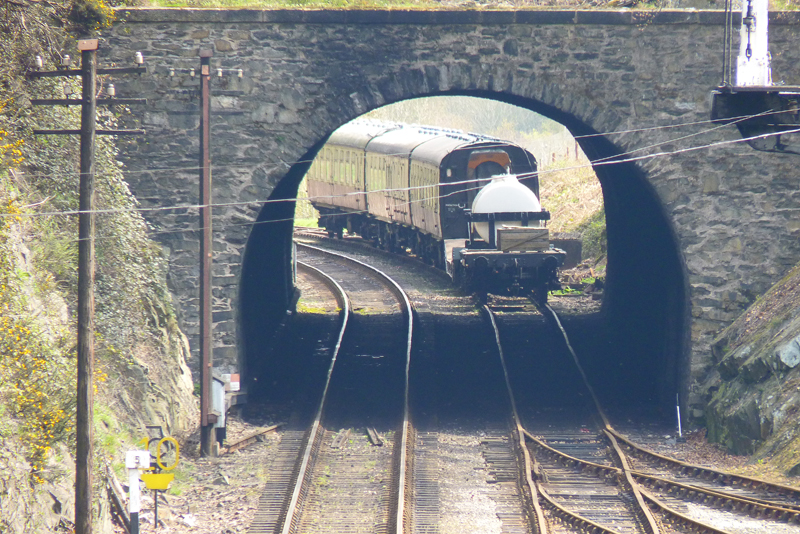 The tunnel that leads Lakeside trains into Haverthwaite station.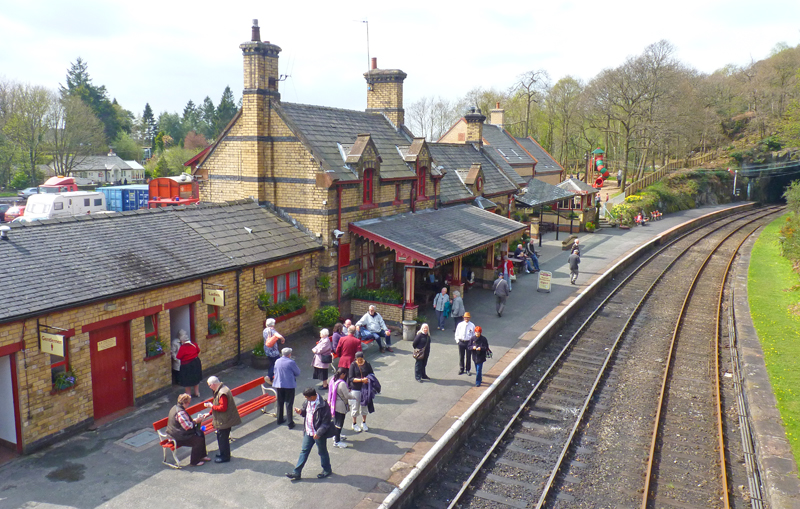 View of the station platform from the footbridge.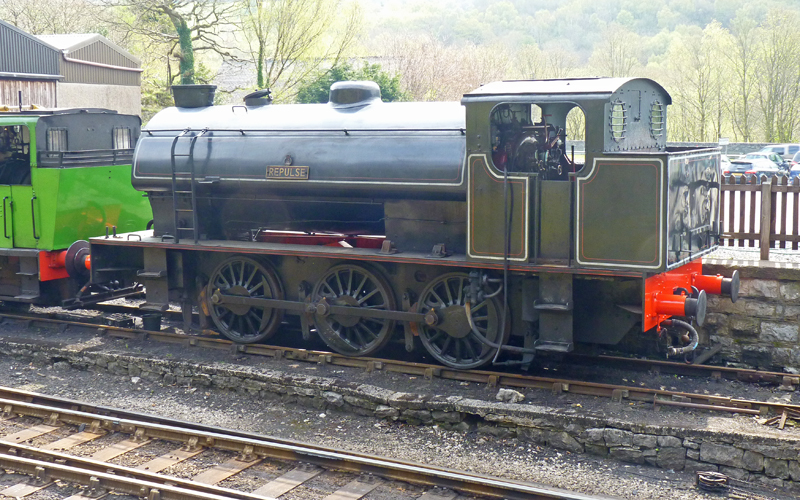 "Repulse" was built by the Hunslett Engine Company of Leeds, and delivered to Northwestern Area of the
National Coal Board in 1950. She was withdrawn in 1975 and brought to Haverthwaite in 1976 for restoration.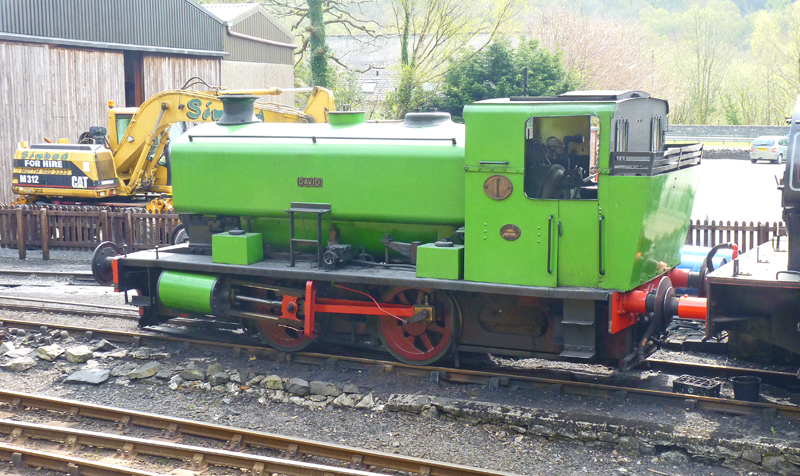 2333 "David" was built at the Andrew Barclay Sons & Co. and delivered to the Millom Ironworks on the River Duddon
estuary in Cumberland on the 25th January 1953. After being sold privately for preservation it was sent to Steamtown, Carnforth
in 1971, and steamed regularly at weekends to haul passengers. It came to Haverthwaite on the 14th March 1978.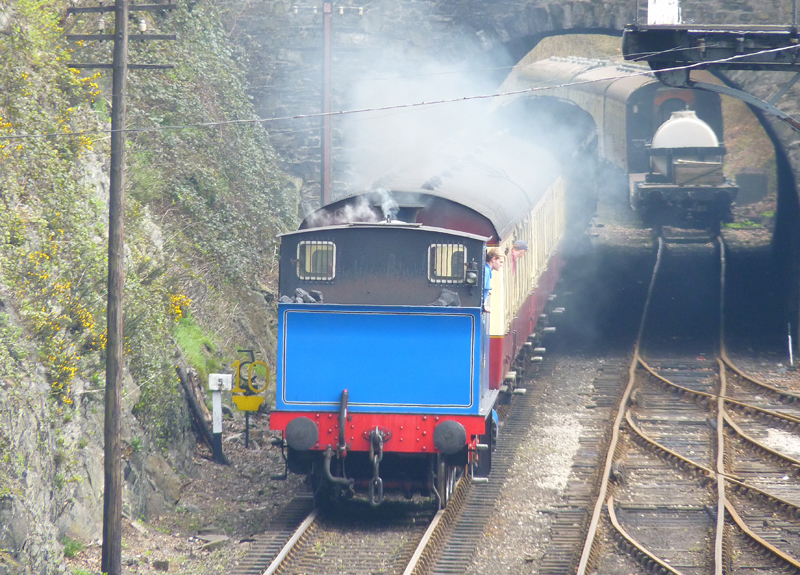 Train arriving from Lakeside.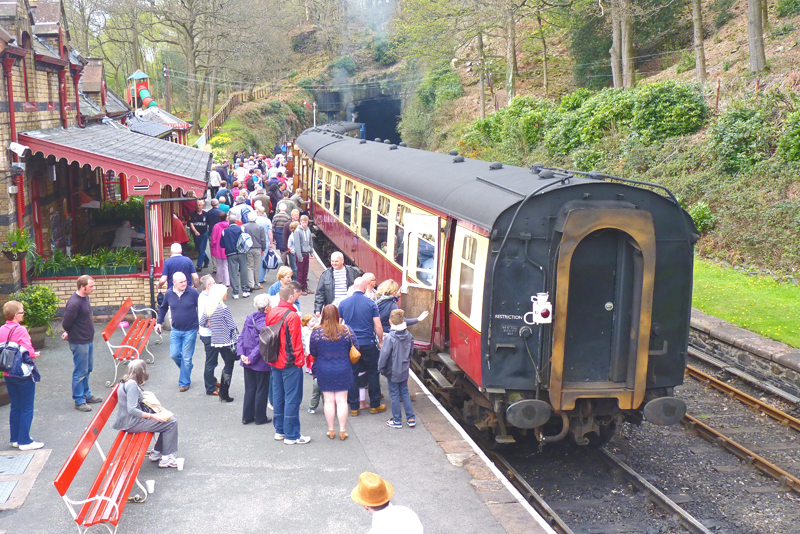 Passengers joining and leaving the train.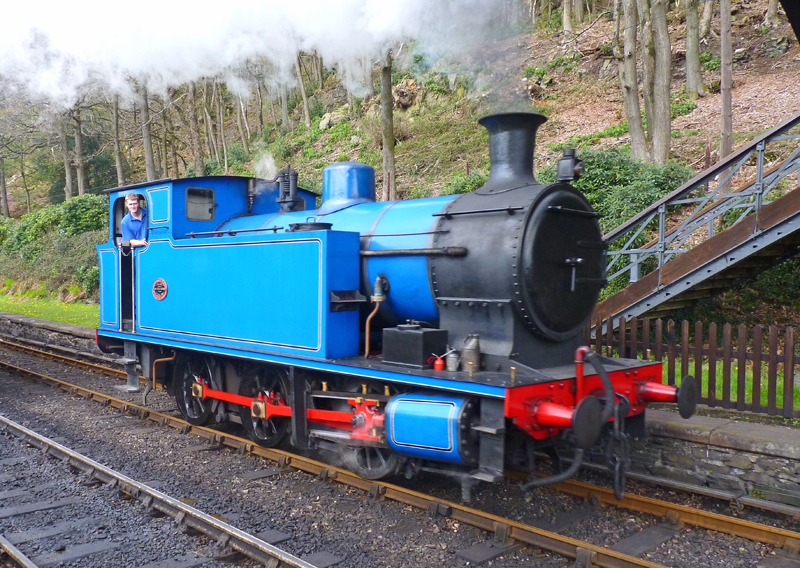 1245 is an 0-6-0T, built 1911 in Kilmarnock. An industrial locomotive all its active life, it was stored for 30 years until 2004
when it was purchased by the Lakeside & Havethwaite. After 19 months of hard work, the restored loco began working
on the railway in 2006.