PRESERVED & SPECIAL INTEREST
RAILWAY PHOTOGRAPHS
KENT & EAST SUSSEX RAILWAY 1988
The photograph below was purchased as a "postcard" in a collector's shop in Chepstow, Monthmouthshire in September 2008.
It shows an image of Tenterden Town Station taken on 10th September 1988.

As well as this date, some facinating information is also written on the back.
The scan of the reverse is also shown below, with the text typed out in readable form.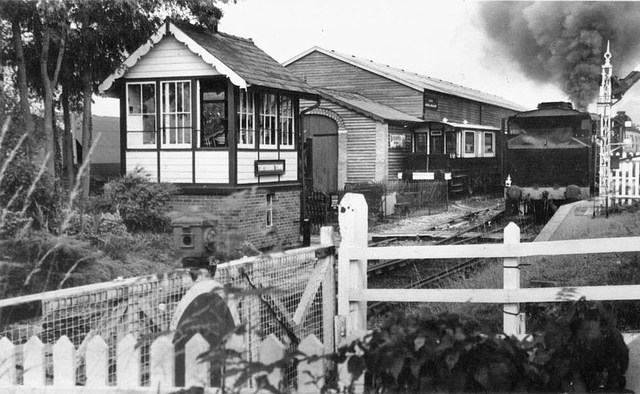 Tenterden Town Station in 1988.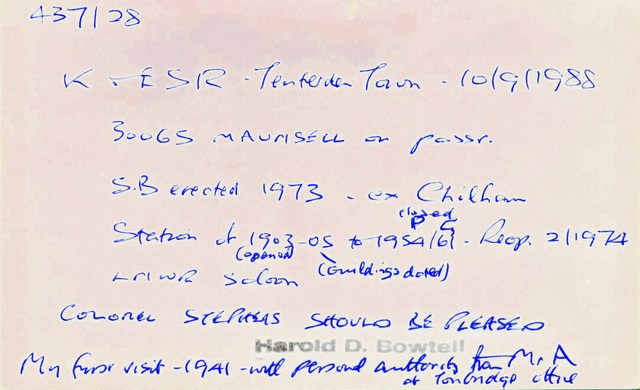 Reverse of the photo shown above.
The text reads as follows:
437/28
K & E S R - Tenterden Town - 10/9/1988
30065 MAUNSELL on passr.
S.B. erected 1973 - ex Chilham

(closed)
Station of 1903-05 to 1954/6 - Reop 2/1974
(opened) (buildings dated)
COLONEL STEPHENS SHOULD BE PLEASED
Harold D Bowtell
My first visit - 1941 - with personal authority from Mr A at Tonbridge office.
Harold D Bowtell has written several books about railways, mostly northern railways.
Look him up on Google.
© Copyright M J Smith, 2008
No photographs to be reproduced elsewhere without permission.