PRESERVED & SPECIAL INTEREST
RAILWAY PHOTOGRAPHS
EMBSAY & BOLTON ABBEY STEAM RAILWAY 2011
This line was opened by the Midland Railway in 1888 as a link between Skipton and Ilkley. There were three intermediate stations at Embsay, Bolton Abbey and Addingham. Bolton Abbey became a popular destination for trippers who wanted to see the ruined priory. The line was double throughout, and sometimes took through trains when other lines were congested.
The line from Ilkley to Embsay closed in 1965. A section remains open between Skipton and nearby quarries for stone traffic.
A preservation society was formed as early as 1968, with a view to taking over as much track bed as possible between Skipton and Ilkley. The society based themselves at Embsay, which remains the centre of operations. A decision was made to purchase only former industrial locomotives from the north of England, and by 1972 there were six small ex-industrial locomotives at Embsay. However, there were difficulties in getting permission to run services, and it was not until 1979 that the society was able to move forward with plans. The line opened in stages from Embsay towards Bolton Abbey. By the mid 1990s the society owned all the track bed to Bolton Abbey, but the station there was in ruins, and it was decided to build a new station for which generous assistance came from many directions. Finally, a passenger service opened between the two stations in 1997, over nearly five miles of track.
For the future, there is hope of extending beyond Bolton Abbey to Addingham, though there are many difficulties to be overcome. At the other end, the line could connect to the existing stone train track, allowing steam trains to run into Skipton, where a main line service still exists.
These photographs were taken on Tuesday 19th April 2011.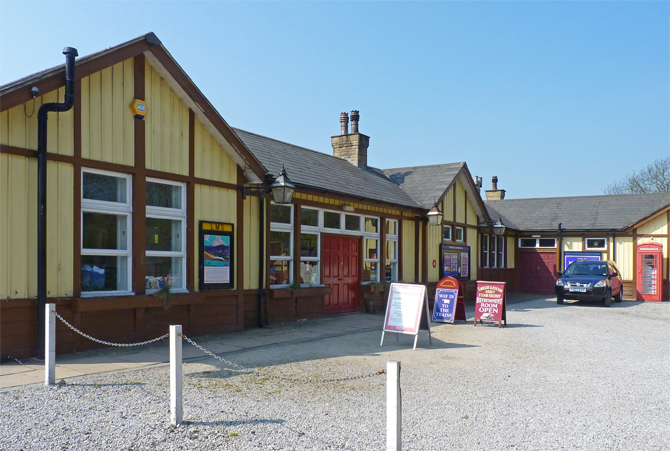 The front of Bolton Abbey Station. This is a new building of wood (apart from the chimney stacks).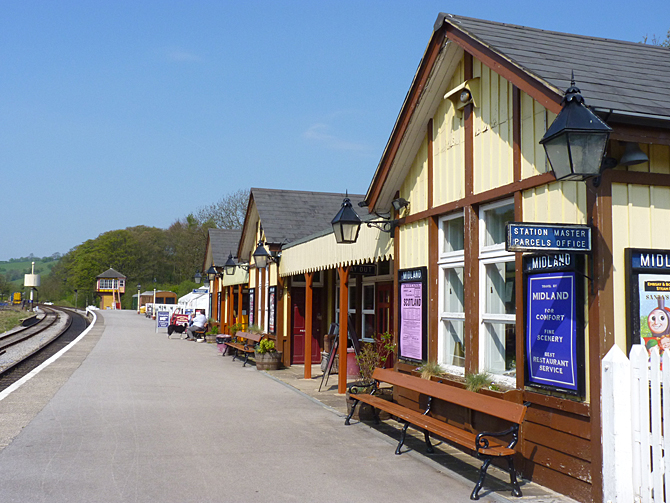 The platform side of Bolton Abbey station. Although it is a new construction (1990s),
it does have period charm, with antique lamps and benches.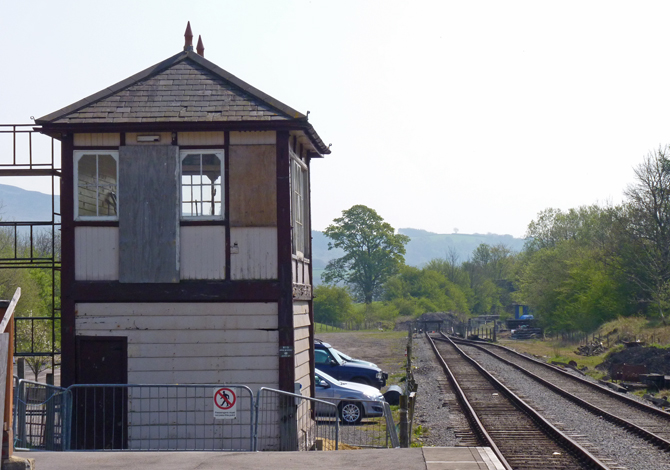 View to the end of the line at Bolton Abbey station.
This is looking in the direction of Addingham, which the railway may reach in the future.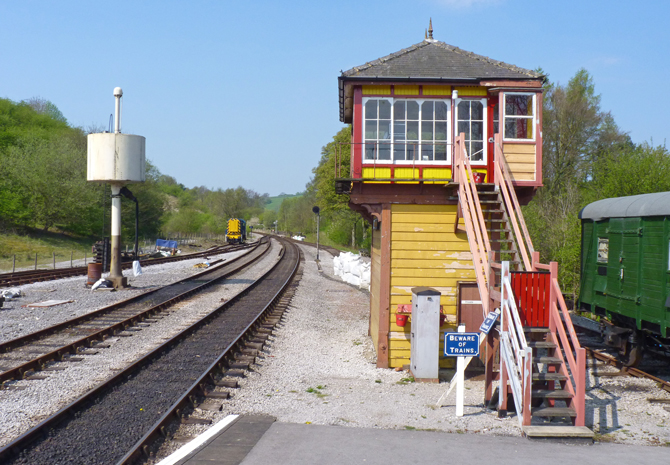 Looking in the direction of Embsay. Bolton Abbey signal box is a Midland Railway construction, which was recovered from Guiseley station when it became redundant. It is currently fitted out for display, although work is ongoing to commission the signal box to control movements at Bolton Abbey.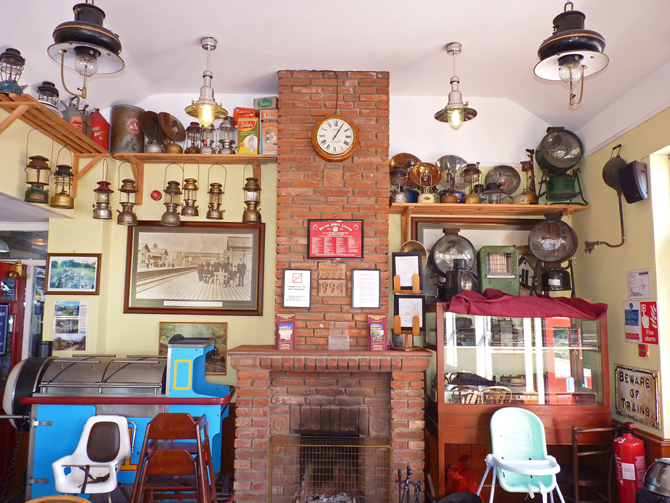 Many railway artifacts are displayed in the Bolton Abbey station café.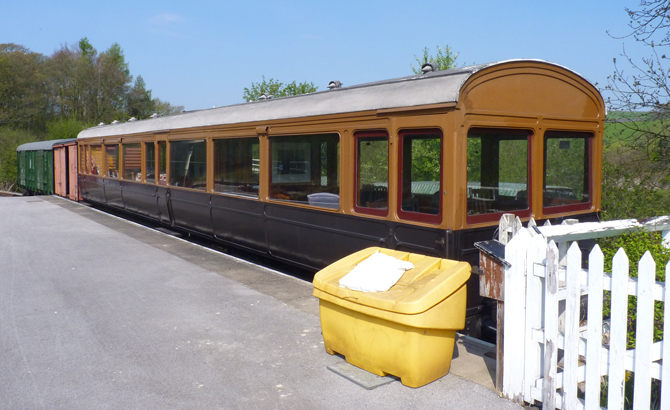 Observation coach in the bay platform at Bolton Abbey.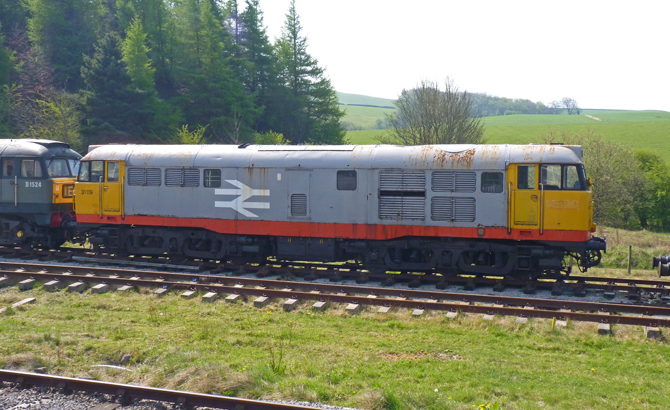 Class 31, 31119 Diesel Locomotive in the ample sidings at Bolton Abbey, awaiting restoration.
Known as the Brush Type 2, these locos were built by Brush Traction from 1957-62.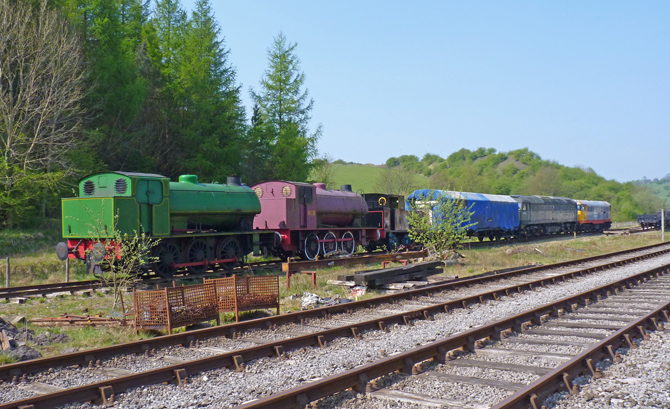 Showing the generous sidings at Bolton Abbey, and a line-up of three steam locos and three Diesels.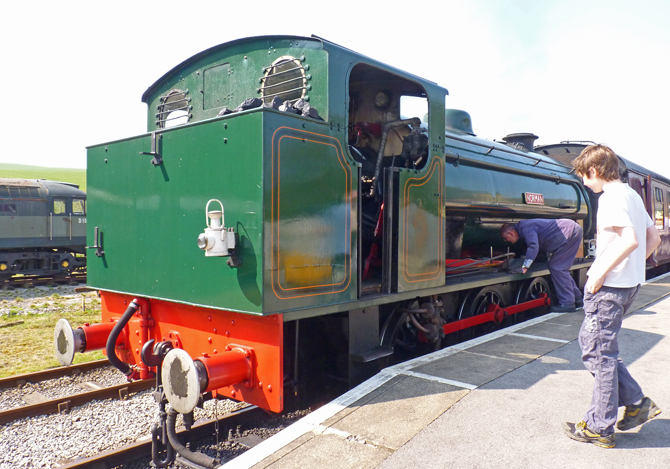 Saddle Tank locomotive "Norman" just back from Embsay. She was built at Robert Stephenson's Loco works in 1943 for WWII service. She went to France in December 1944, returning in February 1946. She was then bought for colliery work which she did until 1976. From 1979 she was with various steam railways or museums until October 2010 when she joined the Embsay & Bolton Abbey Steam Railway, where she is expected to remain until March 2012.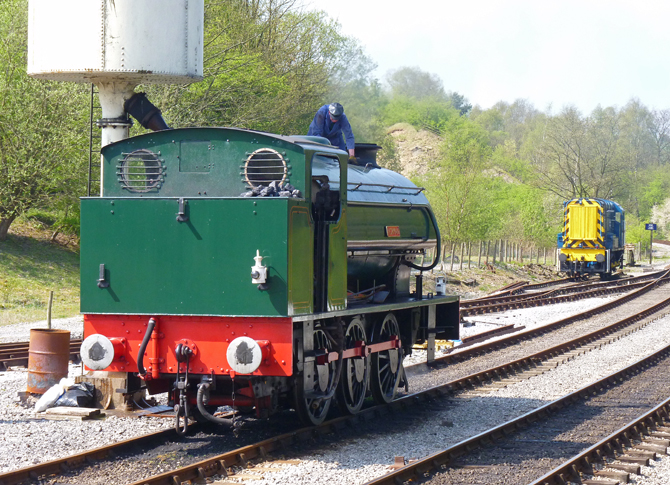 "Norman" taking on water for the next trip to Embsay.
"Norman" about to couple-up to the carriages heading for Embsay.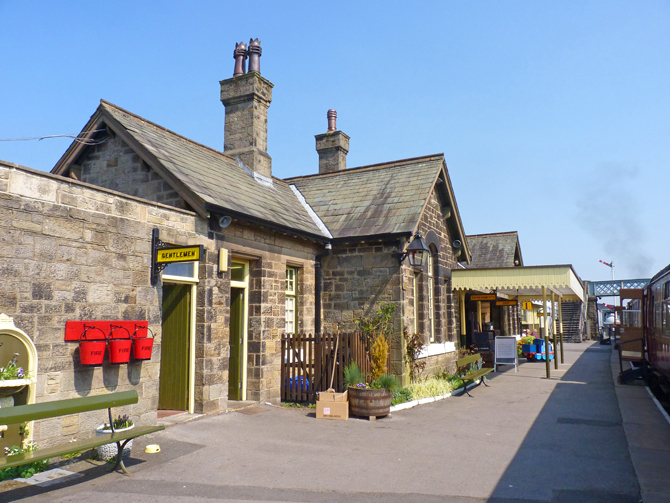 Embsay station is an 1888 original building.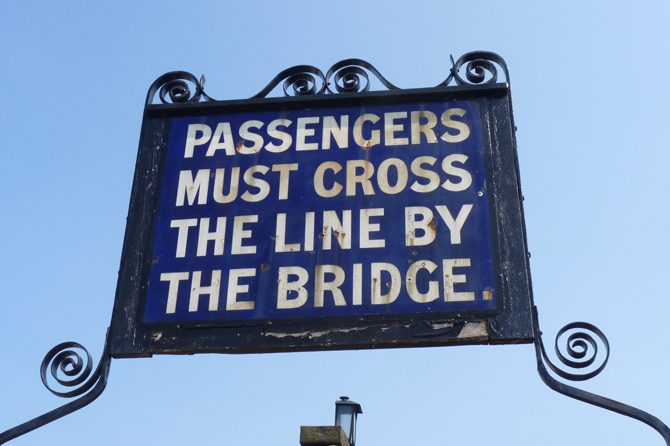 Vintage sign above the entrance to the footbridge.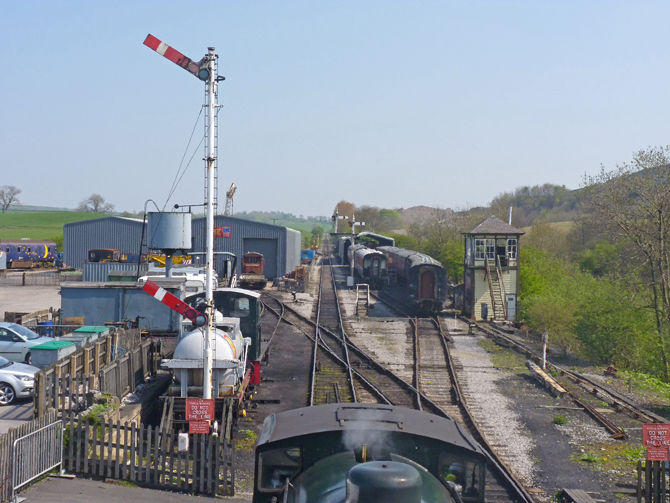 View of the Embsay locomotive complex, showing the extensive facilities.
The two metal engine sheds on the left are only a couple of years old.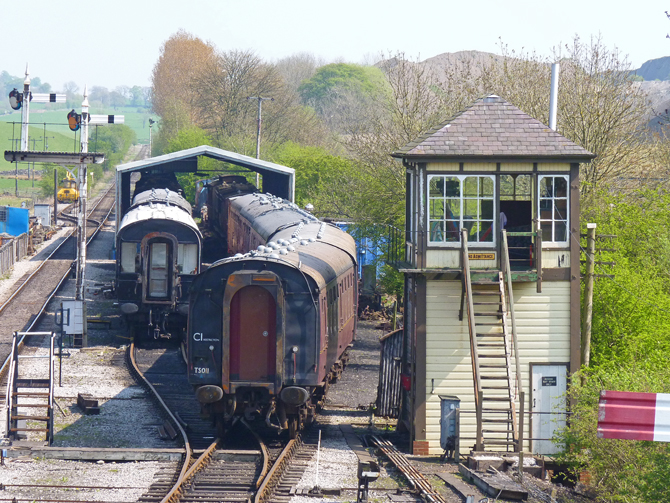 Close-up of the carriage sheds. The Embsay Station signalbox is not the original structure from the line's opening in 1888, but a 1923 replacement. It has undergone a very thorough rebuild, and still controls all the movements at Embsay Station.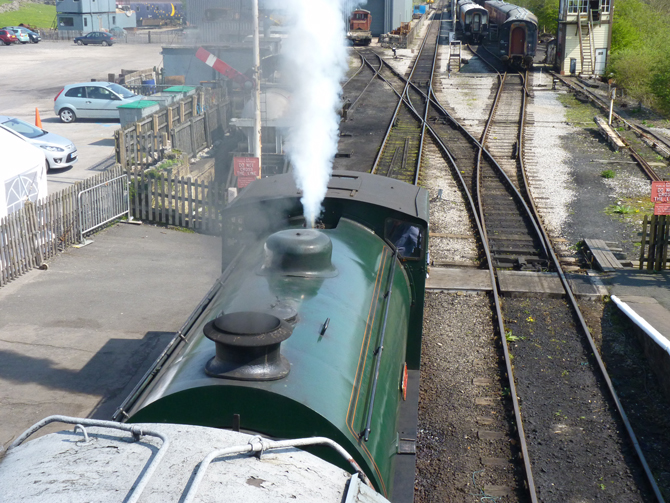 "Norman" about to depart on another journey to Bolton Abbey.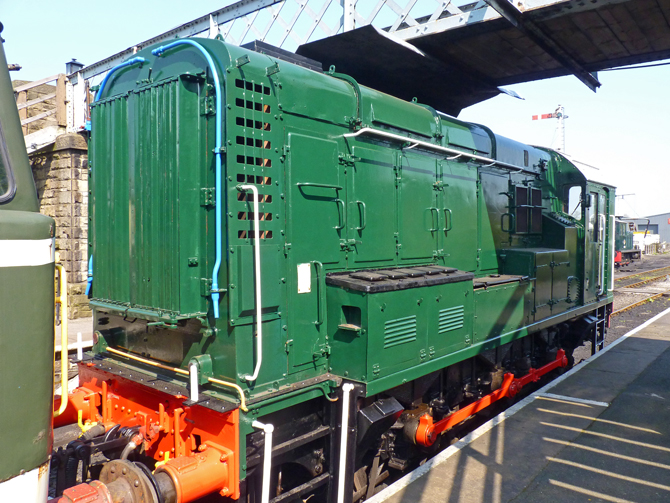 Class 08, number 773, Diesel Shunter has been visiting the Railway since 2006 from the Newton Heath Diesel Traction Group.
It has fulfilled the role of yard shunter and made appearances at the Diesel Weekends.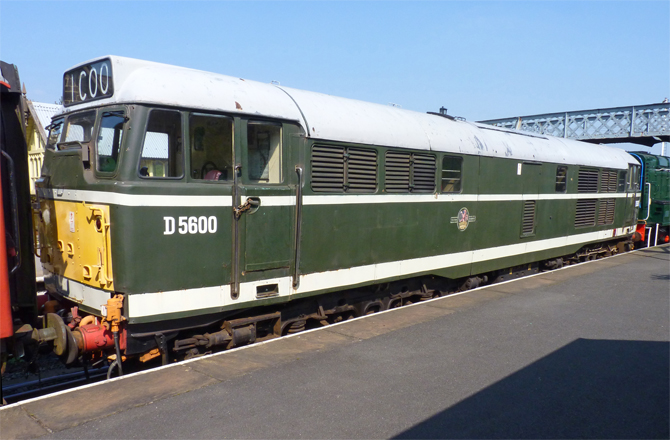 Another Class 31 Diesel Locomotive - this time fully restored.

It is owned by Newton Heath Diesel Traction Group and is stored at Embsay.
It featured in the 2008 Diesel and Steam Galas and a new home is being sought by its owners.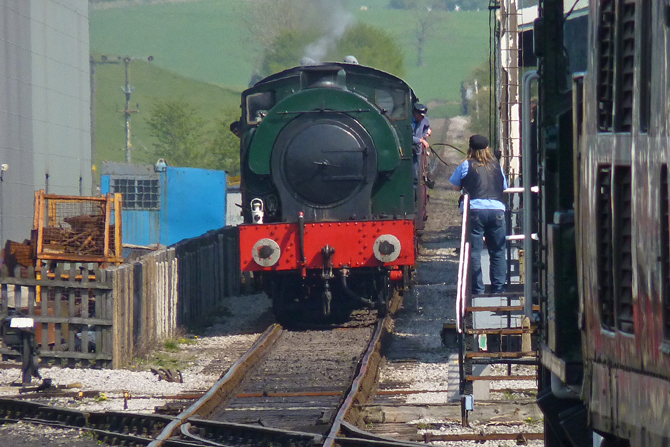 Single line working token being exchanged at the entrance to Embsay station.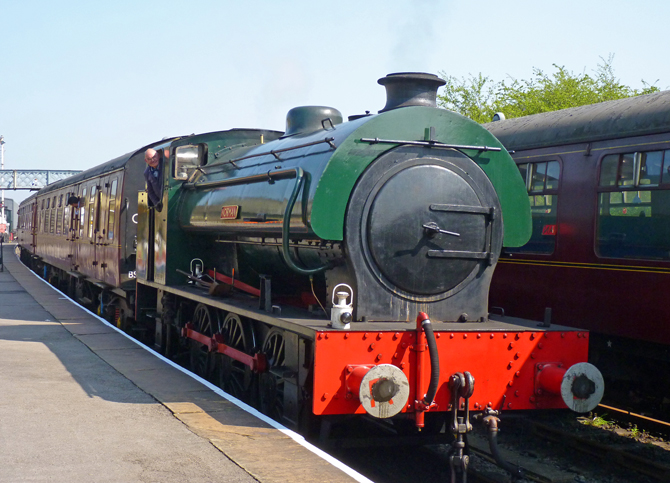 "Norman" arriving back at Embsay after another run from Bolton Abbey.
© Copyright M J Smith, 2011
No photographs to be reproduced elsewhere without permission.